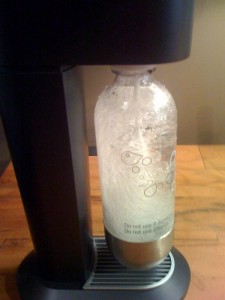 When I go out to dinner, I love to drink sparkling water. Yet it's not something I drink at home, mostly, I think, because I don't want to lug bottles of soda up to my apartment, especially with a toddler in tow.
So I was very excited to find out about Sodastream, which turns tap water (or MAVEA water, as in my case) into soda. It also makes soda—yes, that means ginger ale, root beer, lemon-lime and more. So if you and another family have differing tastes (I drink seltzer; hubby drinks soda once in a while), you don't have to have lots of bottles sitting around and you can each have your own bottle in the refrigerator until you're ready to zap more water into your favorite drink.
Sodastream's tag line is: a smarter way to enjoy soda. And they take this seriously. No extra bottles. No empties sitting around. Money saved (only 25 cents per bottle of seltzer or glass of soda). Earth friendly (nothing to throw out, which is better than recycling). Less plastic manufactured. Less waste…the list goes on.
And the taste? My husband made the root beer and said it was one of the best he's tasted. I like adding these flavor essences, especially the orange.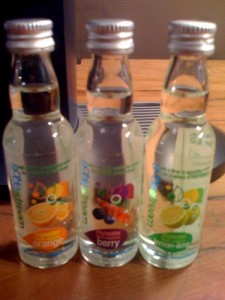 For more information on the SodaStream Soda & Seltzer Maker, visit their site.
To purchase, visit Amazon: