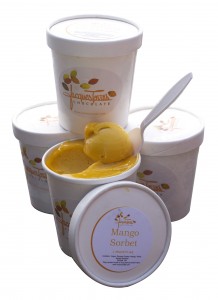 My daughter was excited. Admittedly I was, too. We were standing in line at Jacques Torres Ice Cream in DUMBO, and my cheerio-loving daughter was about to try vanilla ice cream topped with chocolate-covered cheerios, a dream dessert for this 2-year old. I had my eye on the sorbet: raspberry, lemon or blueberry? I opted for raspberry, not too sweet and oh so refreshing on that sultry summer day. The toddler verdict: the cheerios were a hit.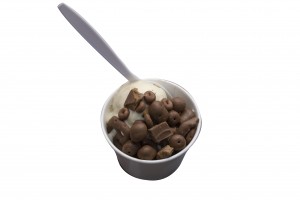 There are mixes here, too, for brownies and cookies. I am no one for store-bought mixes, but when they're created by Jacques Torres why not give one a whirl? Thus I bought French Kiss cookie mix to make at home. I am waiting for a cool day to bake, and I will let you know how they turn out. Until then, learn more about Jacques Torres in my Q & A with him in Haute Living, or stop by one chocolate master Torres' stores for a scoop of your own. Or better yet, take home a pint.
Jacques Torres Chocolate/350 Hudson St, Greenwich Village/212-414-2462
66 Water St, Brooklyn (DUMBO)/718-875-9772
285 Amsterdam Ave (73rd & 74th)/212-414-2462
The Chelsea Market; 75 9th Ave at 15th; 212-414-2462
Jacques Torres Ice Cream/62 Water St, Brooklyn (DUMBO)/718-875-9772

To buy Jacques Torres products online, visit Mr. Chocolate.