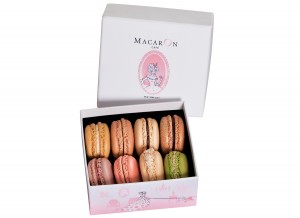 If you're ever looking for something new to bake, why not try a batch of delicate macarons?
I recently had the pleasure of interviewing Cecile Cannone of Macaron Cafe for Haute Living. French-born Cannone is an expert at making authentic macarons, which she perfected from old family recipes. In her new book, Macarons: Authentic French Recipes from the Macaron Cafe (available on Amazon), she offers recipes for this quintessential French cookie. Here, she shares one with us. But if you're interested in other flavors, definitely check out her book.
And check out my interview with her in Haute Living.
French meringue macarons
Makes 50 to 60 shells, for 25 to 30 filled macarons
Ingredients
2¾ cups (8.8 ounces/250 grams) almond flour
2¾ cups (12.4 ounces/350 grams) powdered sugar
1 cup egg whites (from 7 to 8 eggs), at room temperature
pinch of salt
2 teaspoons powdered egg whites, if weather is humid
¾ cup (5.3 ounces/150 grams) superfine granulated sugar
5 to 7 drops gel paste food coloring (optional)
Make the macarons
Step 1: Line your baking sheets with parchment paper.
Step 2: Blend the almond flour with the powdered sugar in the food processor to make a fine powder (or sift together, discarding any large crumbs and adding a bit more almond flour and powdered sugar as needed to compensate). Then sift the mixture through a strainer until it's as fine as you can get it. This keeps crumbs from forming on the macaron tops as they bake.
Step 3: With the wire whip attachment on the electric mixer, beat the egg whites with the salt and powdered egg whites (if you're using them), starting slowly and then increasing speed as the whites start to rise. Add the granulated sugar and the food coloring. Beat until the egg whites form stiff peaks and your meringue is firm and shiny.
Step 4: Pour the beaten egg whites onto your almond flour mixture and gently fold them in, using a rubber spatula. Move your spatula from the bottom of the bowl to the edges with one hand, using your other hand to rotate the bowl. Now hit the spatula against the rim of the bowl until the batter falls in a wide ribbon when you raise the spatula. When you can't see any crumbs of almond flour and the mixture is shiny and flowing, you're ready to start piping.
Step 5: Fit your pastry bag with a number-8 tip to fill with batter. Start by squeezing out a small amount of mix onto a parchment-lined baking sheet to form a 2½ -inch circle. Be sure to leave 1 inch of space between macarons so they will not touch each other while they bake. If the peak that forms on the top of the macaron does not disappear after piping, it means the batter could have been beaten a little more. To eliminate the peaks, tap the baking sheet on the tabletop, making sure to hold the parchment paper in place with your thumbs.
Let the piped macarons rest for 15 minutes. Preheat the oven to 300°F (325°F for a non-convection oven).
Step 6: Bake for 14 minutes. After the first 5 minutes, open the oven door briefly to let the steam out. Let the macarons cool completely on a rack before taking them off the parchment paper. Press the bottom of a cooled baked macaron shell with your finger; it should be soft. If the bottom of the shell is hard, reduce the baking time for the rest of your macarons from 14 minutes to 13 minutes.
Lavender buttercream
Makes enough filling for 25 to 30 filled macarons
Ingredients
3 eggs
1 cup (7 ounces/200 grams) superfine granulated sugar
1 cup lavender water (rinse several fresh lavender stems and pour boiling water over them in a bowl; steep for 5 minutes. Strain.)
1 cup plus 2 tablespoons (2¼ sticks; 9 ounces/230 grams) chilled unsalted butter, preferably European-style
5 to 8 drops edible essential lavender oil (optional)
Make the buttercream
Beat together the eggs and the sugar with the electric mixer at high speed; you want your batter to double in volume and become fluffy. Pour into a saucepan, add the lavender water, and heat at medium temperature, stirring, until the liquid evaporates and the mixture forms a compact batter. Pour into a shallow dish, cover with plastic wrap, and chill in the refrigerator.
Cut the cold butter into small pieces and beat at a high speed with the mixer's wire whip attachment. When the butter starts to increase in volume and become fluffy, add the cold lavender batter and whip again. For a stronger lavender flavor, add a few drops of edible essential lavender oil; how much you need depends on the brand.
Recipe courtesy of Cecile Cannone's book: Macarons: Authentic French Recipes from the Macaron Cafe, Ulysses Press.