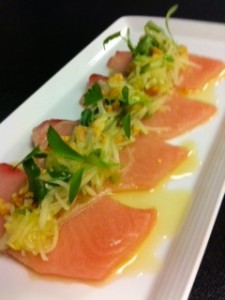 This is one of those dishes to make after the kids go to bed, as it serves two, plus raw hamachi isn't exactly something your children will like. (Double or triple the recipe for your next dinner party.) Chef Jasper Schneider serves this at Hudson Hall, that modern, collegiate-like dining hall in Hell's Kitchen. Find out more about Hudson Hall in my Q & A with Chef Schneider in Hauteliving.com.
Hamachi green papaya salad
Serves 2
Ingredients
2oz Hamachi, sliced
1 tablespoon peanuts
Sea salt to taste
1oz green papaya, grated
6 pieces cilantro leaves
5 pieces micro cilantro, for garnish
2 tablespoon Thai bird chili vinaigrette (recipe below)
Make the dish
Slice hamachi and place on a plate. Salt peanuts, to taste. Shred the green papaya in a food processor. After shredding toss with the Thai bird chile vinaigrette (recipe below), salted peanuts and cilantro leaves. Season with salt if desired, according to taste. Place the salad over the fish and add one tablespoon of of dressing over the top and garnish with micro cilantro.
Thai bird chili vinaigrette
Ingredients
1/2 cup palm sugar (which I got at Kalystyan's)
4 pieces of Thai Bird Chilies, sliced thinly (or use jalapenos if you can't find the chilies)
2 cups fresh lemon juice
1/2 cup fish sauce
Make the vinaigrette
Smash the chilies with the palm sugar until it starts to become soft, about 5 minutes. Whisk together with the remaining ingredients.
Recipe courtesy of Chef Jasper Schneider of Hudson Hall restaurant in the Hudson Hotel
Hudson Hotel/356 W 58th St at 9th Avenue/212-554-6502