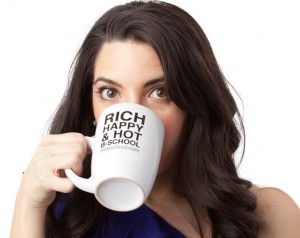 In my new column, Women Dish, I'm asking some of my favorite inspiring + successful women to share their favorite food + restaurants in NYC. Here, I speak to Marie Forleo, the dynamic, go-to-woman for women who want to make it big online. —Tracey Ceurvels
Tracey Ceurvels: What's your favorite neighborhood restaurant
Marie Forleo: I have two places right now: Ghandi Cafe on Bleecker Street near 7th Avenue South for totally yummy Indian food and Aria on Perry Street for small Italian bites.
Tracey: Where do you like to dine out with friends?
Marie: Blossom in Chelsea—amazingly great vegan.
Gobo on Sixth Avenue—delicious vegetarian.
Westville on 10th Street—killer salads.
Dos Cominos in Meatpacking—excellent guacamole.
Tracey: What's your favorite pizza place?
Marie: Slice on Hudson for healthy pizza + amazing salads. Bleecker Street Pizza on 7th Ave South—the "nona slice" is to die for!
Tracey: What's your favorite type of cuisine?
Marie: Gosh, I'd have to say Italian but I LOVE all kinds of food. Mexican and comfort food are a close second and third. I LIVE for great guacamole.
Tracey: Where do you like to dine on special occasions?
Marie: Pure Food & Wine is pretty awesome. Alta is super fun for small plates and sangria.
Tracey: Do you have a favorite coffee or tea shop?
Marie: Yes! I absolutely adore Grounded on Jane Street in the West Village. Besides the cozy atmosphere, they offer little punch cards for a free drink after you buy 10 or so. LOVE!
Tracey: What are some of your favorite dishes around the city?
Marie: I'm currently eating primarily vegan/vegetarian.
Best vegan seitan scallopini is at Blossom in Chelsea.
Best truffled mashed potatoes—Extra Virgin on West 4th Street
Best vegan "philly cheesestake"—'sNice on West 4th
For non-vegetarian:
Best Mudsa-Mun Koong- Silom in Chelsea (avocado, cashew, shrimp & potato in a red curry sauce)
Best cheese burger with smoked gouda, grilled onions on a Portuguese bun—Westville
Best disco fries—Manatus Diner on Bleecker Street
Tracey: What are your favorite brunch spots?
Marie: Tartine and Cafe Cluny in the West Village and La Bottega at the Maritime Hotel; Jivamukti Cafe for super healthy and tasty food.
Tracey: Where do you like to grocery shop?
Marie: I shop at Integral Food on 13th street and Trader Joe's in Union Square.
Tracey: What are some of your standby dishes you like to cook at home on a regular night?
Marie: I make the best "Italian" guacamole on the planet. Substitute fresh basil for cilantro!
Tracey: What's in your refrigerator right now?
Marie: A ridiculous amount of vegetables for juicing and salads!!
Marie Forleo is an international bestselling author, speaker and founder of Rich Happy & Hot, a thriving community of entrepreneurs and go getters from over 108 countries around the world. She was recently interviewed by Tony Robbins for his DVD program The New Money Masters and mentored young business owners at Richard Branson's Center of Entrepreneurship in South Africa. Get access to free weekly videos, articles and upcoming events by signing up at http://marieforleo.com.
Marie's Favorites
Ghandi Cafe/283 Bleecker St/212-645-1456
Aria Wine Bar/117 Perry St/212-242-4233
Blossom/187 Ninth Ave/212-627-1144
Gobo/401 Sixth Ave/212-255-3242
Westville/210 W. 10th St/212-741-7971
Dos Cominos/675 Hudson St/212-699-2400
Slice/535 Hudson St/212-929-2920
Bleecker Street Pizza/69 Seventh Ave/212-924-4466
Pure Food & Wine/54 Irving Place/212-477-1010
Grounded/28 Jane St/212-647-0943
Extra Virgin/259 W 4th St/212-691-9359
'sNice/45 Eighth Ave/212-645-0310
Silom/150 Eighth Ave/212-675-0080
Manatus Diner/340 Bleecker St/212-989-7042
Tartine/253 West 11th Street/212-229-2611
Cafe Cluny/284 W 12th St/212-255-6900
La Bottega at the Maritime Hotel/363 W. 16th Street/212-243-840
Jivamukti Cafe/841 Broadway/212-353-0214
Integral Food/229 W. 13th St/212-243-2642
Trader Joe's/142 E. 14th St/212-529-4612