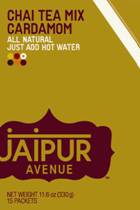 I'm a tea addict, especially when it comes to chai tea. I LOVE chai and drink it all day long. But I'm often out and about and can't make it exactly the way I like, with special honey I buy at the Greenmarket and steamed milk that I foam with an Aerolatte.
Enter Jaipur Avenue Tea. This new, high-quality instant tea is perfect for the chai tea-lovers who are out and about all day or working in an office where making a quality cup of tea isn't feasible. (I recently took some on vacation and was so happy I did.) It's formulated and packaged in Mumbai, India. And look at the beautiful packaging! The tea was founded by a former textile designer for Oscar de la Renta
I'm not usually into instant beverages, but these are appealing because:
1) They're all-natural and authentic (there's no other chai tea like this that I've seen).
2) They come in five flavors, all of which are appealing: Cardamom, Original Masala, Ginger, Saffron, and Vanilla. (I'm prone to the cardamom and vanilla.)
3) Low on sugar—only 10 grams per 8 ounce cup, which is 50 to 100% less than other leading brands.
4) Easy to carry around and prepare—simply add hot water for a traditional cup of chai, or chilled milk and ice for a summer drink.
Jaipur Avenue tea isn't yet available at stores in NYC, but it is available on Amazon.com