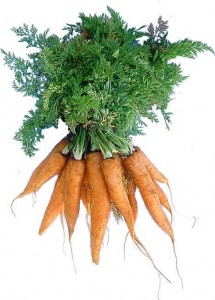 In the fall I love making soup, especially ones that are puréed. That paired with some crunchy bread and white wine is a whole meal for me. And as cliché as it is to be a New Yorker who shops at the Greenmarket, that's one of my favorite places to buy vegetables. During fall it's where I stock up on root vegetables of all kinds for just this kind of thing. I have a whole roster of soups I plan on making, and which I'll serve to Baby S in hopes she likes them, too.
I am starting out the fall with a classic: carrot ginger soup. Serve with your favorite crunchy bread (a classic baguette will do), some creamy butter (or goat cheese) and a glass of white wine. If you like soup with some added spice (as I do), add a teaspoon of crushed red pepper before blending.
To purée the soup, definitely buy this KitchenAid Hand Blender
— it's one of my favorite kitchen gadgets of all time.
Ingredients
2 tablespoons sweet cream butter
2 onions, peeled and chopped
6 cups chicken broth
2 pounds carrots, peeled and sliced
1 1/2 tablespoons grated fresh ginger
1 cup whipping cream
Salt and fresh pepper
Sour cream
Make the soup
In a 6-quart pan, over medium high heat, add butter and onions and cook, stirring often, until onions are limp. Add broth, carrots, and ginger. Cover and bring to a boil. Reduce heat and simmer until carrots are tender.
Remove from heat and let cool for 5 minutes. transfer to large bowl, if you like and cover with a kitchen towel as you blend with immersion blender, using caution as you blend the hot liquid. Blend until smooth. Add salt and pepper, to taste.
Ladle into bowls and garnish with dollop sour cream.