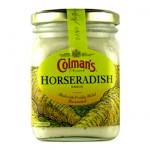 If you're entertaining and looking for a hearty dish, I highly recommend beef rib roast, a veritable classic. Not only is it a dish suited for winter, it's also impressive and a definite dinner party favorite, especially with tangy, creamy horseradish sauce. While I love going to my favorite butcher shop in the West Village, it's not always feasible (like when I'm traveling). Often what I'll do is Order Beef Online ahead of time from a site that sells organic beef so it arrives at my destination just around the time I do. I prefer meat that's raised traditionally, humanely and sustainably with absolutely no hormones or antibiotics. It simply tastes better. So I was happy to find a site that sells beef matching these requirements: Niman Ranch. Their Angus breeds are grown on pastures and on an all-vegetarian feed on family-owned farms–and they feature a Frenched 3-rib roast that's perfect for this recipe. I like serving it with potatoes au gratin and a simply cooked green vegetable like peas, along with a full-bodied Cabernet.
Enjoy!
Beef rib roast with horseradish cream
Serves 5-6
Ingredients
Sauce
1 head garlic (1/4 pound; about 2 1/2 inches in diameter), left intact
1 teaspoon olive oil
3/4 teaspoon salt
2 cups heavy cream
1/4 cup drained horseradish from a jar (unless you want to grate it yourself)
1/8 teaspoon ground white peppercorns
Tenderloin
1 (3-pound) beef rib roast, tied
1/2 cup cracked black pepper
2 teaspoons granulated beef bouillon
2 teaspoons salt
3/4 teaspoon cornstarch
3/4 teaspoon dried oregano, crushed
3/4 teaspoon garlic powder
3/4 teaspoon paprika
1 tablespoon olive oil
Make the dish
Put oven rack in middle position and preheat oven to 400°F.
For sauce
Cut off and discard top fourth of garlic head. Drizzle exposed garlic with oil and sprinkle with 1/4 teaspoon salt, then wrap head tightly in foil. Roast garlic until tender, about 1 1/4 hours. Open and cool. While garlic roasts, simmer cream in a 1 1/2- to 2-quart heavy saucepan, stirring occasionally, until reduced to about 3/4 cup, 20 to 25 minutes, then transfer to a bowl. Squeeze garlic into a small bowl. Throw away skins. Mash garlic with horseradish, pepper, and remaining 1/2 teaspoon salt using a fork. Stir garlic mixture into cream, then chill.
For tenderloin
Increase oven temperature to 475°F.
Pat rib roast dry. Mix together pepper, bouillon, salt, cornstarch, oregano, garlic powder, and paprika in a small bowl. Rub oil on tenderloin, then rub with spice mixture, coating the meat. PlaCE tenderloin on rack in roasting pan and roast 10 minutes, then reduce oven temperature to 425°F and cook about20 to 25 minutes for medium-rare. Let roast stand on rack in pan 10 minutes before serving.
Cut beef into 1/4-inch-thick slices and serve with garlic horseradish cream.