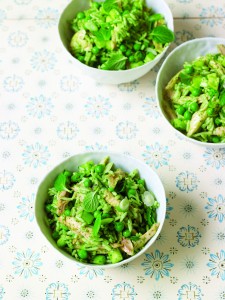 Chicken is a go-to dinner choice for many home cooks. But if you're burnt out from the same recipes you keep making, turn to
A Bird in the Oven and Then Some: 20 Ways to Roast the Perfect Chicken Plus 80 Delectable Recipes
Author Mindy Fox has created 20 chicken recipes plus side dishes + salads.
Enjoy roast chicken with:
Chorizo lime butter
Green olives, fennel seeds and thyme
Morcilla sausage and pimenton de la vera
Caper butter, roast lemons and skordalia
Plus, soups, salads + more.
Dinner won't be boring with these recipes, because Fox turns the ordinary bird into a meal you'll love making + eating. And her side dishes + salads, including avocado salad, pineapple mint salad and olive oil mashed potatoes with coarse pepper and wispy scallions, are incredibly appetizing. With this cookbook, you won't run out of ideas for dinner.


Here Mindy shares a recipe with us:
CHICKEN and RICE SALAD with MINT PESTO and PEAS
Serves 4
This is a great summer picnic or beach salad, although it also works well in those last weeks of winter to summon the warm breezes of longed-for spring!
Ingredients
11/2 cup frozen peas, thawed
Good basic kitchen salt, like kosher (for water)
13/4 cups water
4 tablespoons extra-virgin olive oil
1 teaspoon fine sea salt
1 cup long grain white rice
2 cups packed fresh mint leaves, plus a small handful of leaves for garnish
1 cup fresh basil leaves
1/2 cup freshly grated Parmigiano-Reggiano cheese
1/4 cup pine nuts
1/4 cup fresh lemon juice
1 small garlic clove, peeled
11/2 cups small to medium shreds roast chicken
1 small cucumber, peeled, seeded, and cut into 1/4-inch cubes
3 scallions, thinly sliced on a long diagonal
Make the dish
Cook peas in a small saucepan of boiling salted water until tender, about 2 minutes. Drain and set aside.
Bring the 13/4 cups water, 1 tablespoon oil, and 1/2 teaspoon salt to a boil in a 2-quart saucepan, then stir in rice. Return to a boil and cover.
Reduce heat to low and simmer the rice until the water is absorbed and rice is tender, about 15 minutes. Fluff rice with a fork and let stand, covered, 5 minutes. Spread the rice on a baking sheet and let cool to room temperature.
In a food processor, combine 1/2 cup of the peas, mint, basil, cheese, pine nuts, lemon juice, garlic, and remaining 1/2 teaspoon salt. Purée until smooth.
In a bowl, toss together the rice, remaining 1 cup peas, pesto, chicken, cucumber, and about 2/3 of the scallions. Transfer to a serving bowl and sprinkle with the remaining scallions and mint leaves.