Guest Posts/Articles
In the Kitchen with Tracey Ceurvels in New York Lifestyles Magazine
Kids eating food with spices? Yes, it's possible!
On Parent.co
Food as an enchanting writing tool
On Women Writers Women's Books
Interview on The NYC Kitchen Cookbook and where to buy spices in NYC on amNewYork
Banana bourbon (and cardamom!) bread is featured on CakeSpy
Tea-Infused Desserts on The Cup of Life
An interview about The NYC Kitchen on Conscious Bites Nutrition
Radio
Interview on Women's Watch on WBZ Radio in Boston
Kitchen Counter Podcast
Online and on iTunes
Listen to it here.
August 13 9:30pm ET
YUM YUM EAT EM UP
Listen here.
August 17th at 9:35-9:55am ET
MORNING EDITION, WOJB 88.9 FM, NPR, Hayward, WI
August 17th at 12pm ET
LIVE FROM JASPER'S KITCHEN, 710 KCMO Talk Radio, Kansas City
Look for the show here.
August 21st at 11:05am ET
THE IDEA EXCHANGE, WBEV Radio, Madison & Central WI, LIVE
August 23rd at 8pm ET with my daughter : )
GREAT TASTE, KRUU LP 100.1 FM, Fairfield, IA, LIVE
September, Details to come
WOMEN'S WATCH, WBZ/CBS Radio, Boston
September 3rd at 3:30pm ET
With Greg Burch of "FLAVORS," the food and wine radio show on KSCO 1080 AM in         Santa Cruz, CA
From Washington Street to Atlantic Avenue: Food Stories from New York's Little Syria
The Feast Podcast
Events
August 31st—Cooking demo at 7pm
September 9th—Cooking demo/book signing from 11-4 ET
Pig Island Festival in Red Hook, Brooklyn
September 13th—"Fromage & Cocktails" Launch event at 6:30pm
The French Cheese Board in SoHo with cocktail & spirits writer Kara Newman. Details to come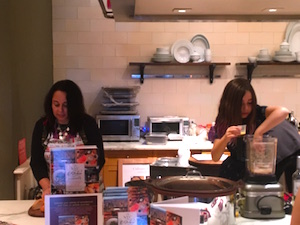 October 7th—Tasting & Book Signing from 3-5
Williams-Sonoma, Columbus Circle, NYC

Reviews
Jordan Rich of CONNOISSEUR'S CORNER, WBZ Radio, Boston
Listen here: CONN CORNER_2 BOOKS -NYC KITCHEN&VEGETARIAN
Huffington Post, Review by Rozanne Gold
Details to come
Dessert Professional Magazine
Will be mentioned in Cutting Edge News Section
Details to come
Stay in touch—Sign up and get 3 free recipes plus info about the cookbook, upcoming events, and more! Click here.