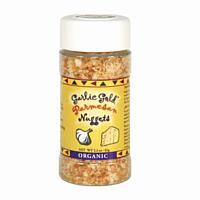 As a busy mom I am constantly on the lookout for products that will make my life—and the lives of my clients—easier when it comes to dinnertime. Enter Garlic Gold. Their line of Nuggets have saved me time when I've been overwhelmed with work, projects and daily life.
I've used Garlic Gold Nuggets sprinkled on pasta, on crunchy bread I put in the oven, on steamed vegetables and on popcorn for our weekly movie night. They add a crunchy texture, and I must say, they pack a lot of flavor into those jars—if you're going for a super quick meal, not much else is needed. The come in four flavors: Plain Garlic, Sea Salt, Italian Herb and my favorite, Parmesan.
And these aren't your run-of-the mill supermarket flavorings full of who-knows-what (and surprisingly they have no sodium). They're handcrafted and made of organic garlic from a farm in Ojai, California.
Although I've made pasta and added the Parmesan Nuggets, and ate that for dinner (and truly, they have so much flavor, it was all that was needed), here is a heartier recipe for pasta.
Gnocchi with tomatoes, pancetta, arugula—Garlic Gold Nuggets
If you're so inclined to make your own gnocchi, send me a message and I'll share my recipe with you. You may omit pancetta for a vegetarian option.
Ingredients
2 ounces pancetta, chopped
1 tablespoon of Garlic Gold (their toasted, crunchy, chopped garlic)
2 large tomatoes, chopped
½ teaspoon sugar
¼ teaspoon crushed red pepper
2 teaspoons red-wine vinegar
¼teaspoon sea salt
1 pound gnocchi
1 bunch of arugula, chopped
Garlic Gold Parmesan Nuggets, to taste
Make the dish
Begin with boiling water for the gnocchi. Meanwhile, sauté pancetta in a large skillet over medium heat. Stir occasionally until it begins to brown, about 5 minutes. Add garlic and cook, stirring for a minute. Add tomatoes, sugar and crushed red pepper and cook, stirring, until the tomatoes are almost completely broken down, about 5 minutes. Stir in vinegar and salt. Remove from the heat.
Cook gnocchi in the boiling water according to package directions. Place arugula in a colander and drain the gnocchi over it, which will wilt the arugula slightly. Add the gnocchi and arugula to the sauce in the pan; toss to combine. Sprinkle with Garlic Gold Parmesan Nuggets.
Enjoy!