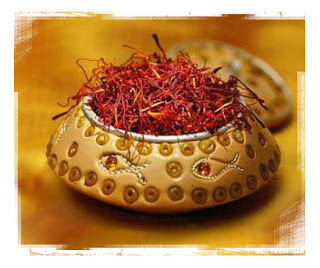 There's something alluring about saffron. The orange-gold threads often sold in a tiny glass bottle seem like something to treasure, not eat.
But watch a few threads of saffron sizzle in olive oil, melt away in a tomato-based sauce or disappear in a fish broth and you might find yourself mesmerized.
Centuries ago, saffron was used as a drugging agent, an aphrodisiac, and in magical potions. It was used as dye, in perfumes and woven into fabrics. It made its way into food as well, first in Persia (now Iran), where it's said to have originated—and where most saffron is harvested today. Then with trading, saffron spread to the Mediterranean and South Asia. Which is why it's popular in dishes like bouillabaisse, risotto, biryani and other rice-based dishes.
Saffron works best in small quantities—too much can be an overpowering presence. Here, three recipes in which a pinch does the trick.
KITCHEN NOTES:
Saffron: I like to get saffron from Kalustyans/123 Lexington Ave/NYC. Kalustyans offers mail order.
Wine Pairing from Elizabeth Patrick of Astor Wines in NYC
These fish stews are made for a Mediterranean white wine. Assyrtiko from Greece, Verdejo from Spain, Vermentino from liguria, Sardinia and Southern Italy are all delicate enough, inviting in their aromatics and well suited to characterful fish stews like this.
Chorizo: I love to stop into Despaña in SoHo for chorizo. This store specializes in food from Spain, and they have a wide variety of cured meats. Despaña is located at 408 Broome Street between Lafayette & Centre Streets. They have a cafe if you want to stop in for a sandwich, tapas or tortilla.
Music: Mariza, who sings beautiful "fado" music.
+++++++++++++++++++++++++++++++++++++++++++++++++++
Clam, saffron + chorizo stew
This is a classic combination that I just love, and when you taste how much flavor even a tiny bit of chorizo adds to a dish, you'll want to add it to many other dishes.
2 tablespoons extra virgin olive oil
2 garlic cloves, sliced
1/4 lb Spanish
chorizo, diced into ¼ inch pieces
2 teaspoons of orange zest
2 cans (14-oz) of stewed tomatoes
1 cup of white wine (more if desired)
1 pinch of saffron
4 lbs littleneck clams, scrubbed
White or brown rice (optional)
Heat olive oil over medium heat in a heavy pan (cast iron) and cook garlic and chorizo for about 2 minutes, stirring occasionally. Add orange rind and cook for another minute. Then add stewed tomatoes and white wine and bring to a simmer, breaking up any large pieces with a spoon. Add saffron and simmer, uncovered over medium heat for about 10-15 minutes. Stir occasionally until sauce has thickened, adding more wine if you like. Meanwhile make white or brown rice according to directions (optional).
Add clams to stew and cover. Cook over medium to high heat, until clams open (about 10 minutes). Discard any clams that have not opened. Serve immediately with rice and/or bread.
++++++++++++++++++++++++++++++++++++++++++++++++++++++++++++
Bouillabaisse
This is one of my all-time favorite dishes to cook and eat. Buy whatever fish and shellfish you like and toss it in—you can't go wrong. Then invite a few friends over and dip the croutons into the broth for a truly sublime experience.
Croutons
12-16 (½-inch-thick) baguette or sourdough slices
3 tablespoons of extra virgin olive oil
1 garlic clove, sliced in half
Preheat oven to 250°F.
Arrange baguette slices in a shallow baking pan and brush each side with oil. Bake until crisp, about 30 minutes. Rub 1 side of each toast with the cut side of garlic.
Rouille
3 tablespoons water
1 cup of coarse fresh bread crumbs
3 garlic cloves
½ teaspoon coarse sea salt
1 teaspoon hot red pepper such as cayenne
½ cup tablespoons extra-virgin olive oil
In a bowl, pour water over breadcrumbs. Mash garlic with sea salt and hot pepper, until it forms a paste. Add moistened breadcrumbs and continue mashing. Slowly add olive oil and stir until thoroughly combined.
The stew
1 large red onion, chopped
2 garlic cloves, chopped
½ cup extra-virgin olive oil
1 lb red bliss potatoes, cut into quarters
½ bay leaf
¼ tsp saffron
¼ teaspoon tarragon
1 ½ tablespoons coarse sea salt
½ tsp black peppercorn
9 cups fish stock
White wine*
¼ cup of cream
3 lbs white fish fillets (such as monkfish, haddock or cod), cut into pieces
½ lb pound clams, scrubbed
½ lb pound mussels, scrubbed and any beards removed
½ lb large shrimp
½ lb scallops
rouille
Cook onion, and garlic in oil in 6- to 8-quart pot over moderate heat, stirring occasionally, until onion is softened, about 5 to 7 minutes.  Peel potatoes and cut into 1/2-inch cubes. Stir potatoes into onion and garlic mixture, and add bay leaf, saffron, tarragon, sea salt, and peppercorns.  Add stock and wine, bring to a boil. Add cream, then reduce heat and simmer, covered, until potatoes are almost tender, about 8 to 10 minutes. Add clams and thicker pieces of fish and simmer, covered, 2 minutes. Stir in mussels, shrimp, calamari and scallops, and simmer, covered, until everything cooked through and mussels open wide, about 5 minutes. Arrange 2 croutons into large soup bowls. Ladle seafood and broth over croutons. Top each serving with a dollop of rouille.
+++++++++++++++++++++++++++++++++++++++++++++++
Chinese 5-Spice Pumpkin Risotto

Print recipe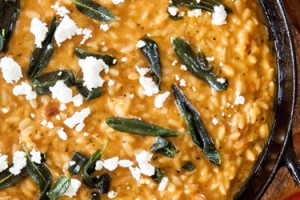 Ingredients
3 cups of fresh pumpkin (peeled and cubed)
1 tablespoon (Chinese 5-spice)
1 tablespoon (butter)
4 shallots (chopped)
5 cups of chicken or vegetable stock
2 cups of Arborio rice ((more if needed))
1/2 cup of white wine
1/2 teaspoon of saffron
1 tablespoon fresh sage (chopped)
1/4 cup of goat cheese (crumbled)
Sea salt + freshly ground pepper (to taste)
Directions
Wrap cubed pumpkin in foil and bake at 350 F for 30 minutes. Meanwhile, sauté shallots in a little white wine. In a separate pan, bring the stock to a boil, then reduce heat to simmer. Once pumpkin is cooked, puree it in a food processor and set aside (you can also use an immersion blender, one of my favorite tools). Add rice to shallots and cook 2-3 minutes over moderate heat stirring frequently. Add wine and saffron and cook, stirring constantly until all the liquid has been absorbed. Add the pumpkin and 1 cup stock, stirring constantly. After that is absorbed, add the rest of the stock 1/2 cup at a time stirring constantly until absorbed until the rice is cooked (about 15-20 min). If you run out of stock add hot water. The risotto should be thick and creamy, and only slightly runny. When done remove from heat, add the sage, some goat cheese, and salt + pepper to taste.