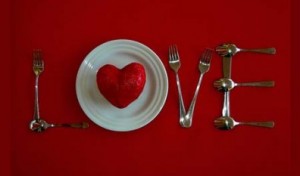 I've been asked to be someone's Valentine: my almost 5-year old daughter asked me and what's even better, she actually told me that I make her heart sing. Wow. I think that's quite possibly the best Valentine I've ever received.
We won't be cooking dinner this year, which is a big bummer. Long story but we sold our apartment just before Christmas and we still haven't moved into our new place. Yes, major stress, but we are going with the flow (yet, I truly cannot wait to "nest").
For now we're living in a hotel in SoHo, which is fun in its own way. It's not the Plaza so we can't pretend that S is Eloise, but it's nice that someone brings fresh towels and makes the bed each day. Because we don't have a kitchen, by the end of our stay I'll know every restaurant in SoHo and what S likes in each one. (Yes, I am craving a home cooked meal. Must return to family in Boston!)
So while we won't be cooking and baking the heart-shaped sugar cookies that S asked me to make, I hope you'll cook dinner with your loved ones, sip wine, eat chocolates—and be grateful for dinner + love.
Here are 6 elegant, piece of cake to make recipes that are sure to spice up your Valentine's Day. I got a groovy new plugin so you can easily print the recipes. And once I move I'll be posting more photos.
Enjoy—and let me know if you need any ideas for dinner.
Happy Valentine's Day.
xo
Tracey
For the recipes that don't come with side dishes you could serve them with jasmine rice and/or salad.