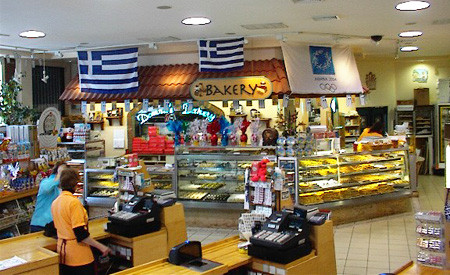 The wonders of Titan Foods, a Greek Supermarket in Astoria, are many.
Walk in and you might feel you've ended up in Greece, not Queens, thanks to the Greek music playing overhead, the blue and white flags, and of course the food, most of which is imported straight from Greece.
What you'll love about Titan Foods:
The variety of feta cheese. You won't find that bland crumbled—dare I say absolutely tasteless?—packaged supermarket feta at Titan. Plus, they sell kasseri, haloumi (so good grilled), keflotiti and other Greek cheese.
The olive bar, with vats of 10 different kinds from Kalamata to olives stuffed with almonds, lemon or garlic.
Dips. If you don't feel like making your own, you can get tzatziki (that dreamy garlicky, yogurt dip, taramosalata (salty roe), skordalia (potato and garlic), and moustalevria (a dip made from grape must). Pick up some fluffy pita bread (and olives and cheese) and you could have an impromptu party with mezze.
Other discoveries: sour cherry syrup, which I add to soda I make in my SodaStream, ouzo-flavored soda, also good in homemade drinks, Greek beer, coffee, olive oil, honey, phyllo dough to make my own wrapped items, orzo (in the recipe below), and beauty products from Greece.
If you're in the mood for all things Greek, you'll definitely enjoy a visit to Titan foods. Be sure to stop by the bakery for some baklava or galaktaboureko.
Titan Foods
25-56 31st Street
Astoria, NY 11102
718-626-7771
You can find out about other specialty food stores in iFoodShop: A Food Lover's Guide to Shopping in NYC. It's my labor of love that I created to share my love of NYC's food shops with you.
++++++++++++++++++++++++++++++++++++++++++++++++++++++++++++++++++++++
For this recipe I loosely followed a recipe by Ina Garten, with my own added flair: I incorporated cumin, coriander and ouzo.
I like to make this on Sunday and then have it for lunch during the week, or with a green salad for a quick dinner.
[gmc_recipe 5195]