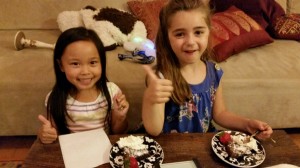 I got a thumbs up on the flour-less chocolate cake from two discerning palates: my daughter, who's on the right, and her BFF (and fellow first grader) whose nickname is GG.
My heart feels so full when I see my daughter playing with her friend and enjoying life. Once she was an infant so reliant on me (well, still is at only 6) and now she's this growing person with her own thoughts, beliefs and friendships. I hear them talking, telling secrets, arguing sometimes and even consoling each other, like at school drop off when they don't want to leave their mamas.
But back to the cake. I wanted to make an easy dessert, since I was busy making broth for bouillabaisse. This cake has only seven ingredients (five if you omit the vanilla and cardamom), plus whatever you choose to serve alongside it.
KITCHEN NOTES
Type of bittersweet chocolate to use
Be sure to use a high end bar of bittersweet chocolate as well as high-end cocoa powder. It makes a difference. My go-to chocolate is Scharffen Berger but I also like Mast Brothers.
What to serve with the cake
I made whipped cream by whipping a pint of heavy cream with a tablespoon of powdered sugar and 1 teaspoon of Madagascar vanilla, plus 1/2 teaspoon of cardamom (I like to spice things up). But you could serve it with ice cream, fruit, grated chocolate, mascarpone, simply dusted with powdered sugar—or whatever you like.
Vanilla
I love the Madagascar bourbon vanilla from Neilsen-Massey. For the whipped cream, you can use liquid vanilla or add in vanilla beans scraped out the pod.
Flourless chocolate cake

Print recipe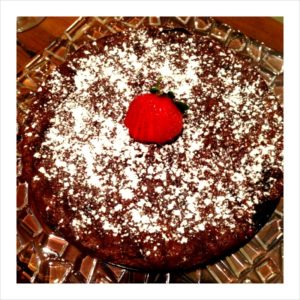 Ingredients
5 ounces of bittersweet chocolate (use a high-quality chocolate like Scharffen Berger)
1/2 cup of butter (unsalted)
1 teaspoon of vanilla
3/4 cup of granulated sugar
3 extra large eggs (at room temperature)
1/4 cup of cocoa powder (use a high-quality chocolate like Scharffen Berger)
1/2 teaspoon of cardamom (optional)
Directions
Preheat oven to 375°F.

Butter an 8-inch round pan. I used a removable bottom baking pan.
In a double boiler, over medium heat melt chocolate with butter and stir until combined. Remove from heat and whisk in the granulated sugar and vanilla. Whisk in the eggs until combined. Add the cocoa powder and cardamom (optional) and continue to mix. Pour the batter into the pan and cook for 20 minutes. Remove from hear and let cool. Dust with powdered sugar and serve with whipped cream, ice cream—or whatever you like.