I was making a soufflé when I discovered what happened in Boston. In fact I was talking to my mom—my whole family lives there.
After hearing the tragic news, I felt paralyzed—and even frivolous when it came time to writing about baking a soufflé. I just could not write about dessert when my hometown had been attacked, and on such a momentous day, when people worldwide were running in the infamous Boston Marathon.
So I share an old post with you. You can read In Khatija's Kitchen, which gives you a tiny glimpse of my life in Boston, plus you can meet one of my cooking muses.
**************************************
Now for this chocolate soufflé, which I can now share with you. I had some Scharffen Berger chocolate (my favorite baking chocolate) waiting to be used on something nothing less than delightful, and I had some new products from OXO related to eggs. So what better way to use the chocolate and the OXO products than a chocolate soufflé?
Although it's an elegant dessert, it's by no means complicated to make. In fact, it's surprisingly easy. Be sure to have ramekins—I bought mine at Broadway Panhandler, but you can get them at any kitchen store.
Make this for an elegant weeknight dessert to make dinner extra special.
Some tips:
Use high quality chocolate, like Scharffen Berger
Make sure the eggs are room temperature—they'll whip up better and faster
Use an egg beater, like the one above from OXO to whip the eggs
When folding the egg whites into the chocolate mixture, do so very carefully
serve alone or with creme anglaise
And if you fear that your soufflé will fall when it comes out of the oven, fear not: it will still taste wonderful.
Chocolate Soufflé

Print recipe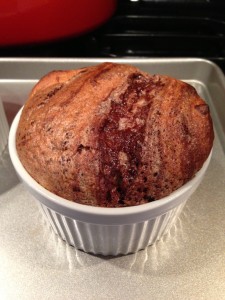 I adapted this Chocolate Soufflé recipe from Williams-Sonoma, which sells some of items you might need to make a soufflé. But I go to my local kitchen store: Broadway Panhandler. Enjoy!
Ingredients
2 tablespoons of butter (plus more for buttering the ramekins)
1 cup of sugar
6 ounces of chocolate (semisweet or bitter) (I used semisweet baking chunks from Scharffen Berger)
1/4 cup of half and half
5 egg yolks
6 egg whites
vanilla bean, split (or use vanilla be a paste from Nielsen-Massey)
A pinch of sea salt
A pinch of cream of tartar
Directions
Preheat the oven to 425°F and make sure there's enough room between the rack and roof of the oven so when the soufflé rises it won't hit the top.

With a paper towel, spread butter on 4 ramekins and then dust with sugar, removing the excess. I put mine in the refrigerator until ready to use.

In a double boiler (I use a metal bowl over a pan of simmering water) melt 2 tablespoons of butter with the chocolate, stirring until melted and shimmering. Set aside and keep warm. (I leave mine over the warm water but remove it from the burner.)

Add yolks, vanilla and 1/4 cup of sugar in a bowl and whisk together until thick. Slowly str in the chocolate mixture.

In a separate bowl, beat the egg whites, salt and cream of tartar until foamy. Add the remaining sugar and continue to mix until stiff peaks are formed. Fold this mixture, small amounts at a time, into the chocolate mixture. Combine but don't over mix.

Add this mixture into the ramekins and bake for 20 minutes.

Serve with creme anglaise, whipped cream, ice cream or a dusting of powdered sugar.