Meet Tracey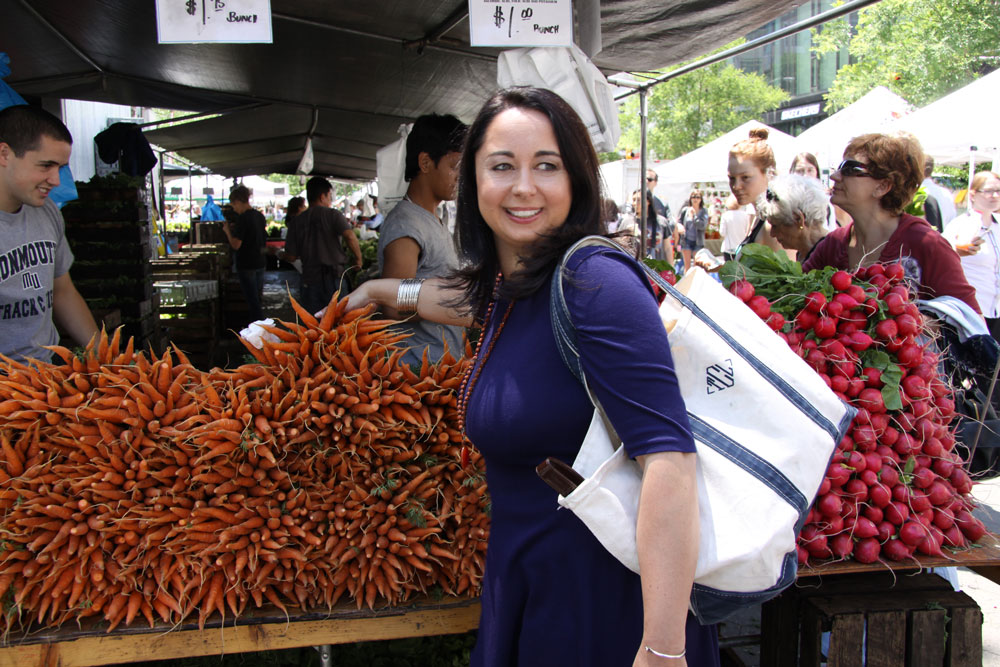 Welcome…I'm the chief food lover, writer, and editor here at The NYC Kitchen. I can't wait to share my recipes and recommendations with you. I want you to know that I understand the monotony of having to make dinner every night. It's what I do for me and my almost 8-year old daughter, Sabrina. But instead of it becoming a chore, I've learned how to make dinner time a bit more exciting—and I want to inspire you to do the same.
My love of food started when I was a kid and that interest has carried over to my kitchen today. You see, ever since I was young, I've had a deep sense of wanderlust. I couldn't wait to get on a plane and see the world—and taste the food of different cultures. My first trip was to Japan where I slurped noodles in Tokyo, dined on shabu shabu on a river in Kyoto, and sipped green tea during a traditional tea ceremony. Next I went to France where I ate elegant lunches in the middle of day prepared by my host family.
It was only natural for me to use my degree in Journalism to write about my food and travel experiences. As a writer for The Boston Globe, The Daily News, Relish, Time Out New York, and other publications, I've tasted exotic fruits on the Amazon River, eaten truffle dinners in Umbria, enjoyed exquisite desserts with afternoon tea in Dublin, eaten fish tacos on the beach in Belize, and dined at Michelin-starred restaurants in the South of France. 
I once drove from Rome to Venice, stopping in the Umbria region and in Florence in Bologna. I loved every second of it. I visited Nice, Cannes, Avignon, Marseille, Paris and other gorgeous places in France. I met relatives in Belgium, spent time in Amsterdam, Holland, and studied with some talented writers in the Czech Republic (where I visited some fascinating sites, including Terezin and a church made out of human bones). I spent a few days in a glamorous hacienda in Costa Rica, savored Peruvian cuisine along the Amazon River in Peru and visited an old ghost town in the mountains of Colorado. 
Somewhere in all of these magical experiences I had a daughter in 2008—and now she's part of the adventure. Wherever I go, I'm drawn to explore food, Sabrina in tow. We visit markets and restaurants. We pop into bakeries and wine shops (for mama, of course). We browse the stalls of farmers' markets and walk the aisles of spice stores. I love seeing what people eat around the world and what imaginative chefs create in their kitchens.
Yet even though I often enjoy incredible food experiences while traveling, I am now firmly planted in New York City with my second grader. Here, I satiate my sense of wanderlust in a different way—on my daily adventures around the city to Indian spice shops in Jackson Heights, Greek stores in Astoria, Asian markets in Chinatown…plus Italian markets, butcher shops, cheesemongers, chocolatiers, bakeries, tea salons and coffee roasters. Then I head home and experiment with the ingredients we picked up.
While I used to write for a variety of publications (still do, sometimes) I've decided to focus my energies here to infuse inspiration into your meals. I created the NYC Kitchen for busy people who crave flavorful, mouth-watering meals to share with their family and friends.
++++++++++++++++++++++++++++++++++++
The more official bio
Tracey Ceurvels worked at several top Boston and NYC restaurants and hung up her apron years ago to use her degree in journalism plus her love of food to write about her favorite subjects: cooking, traveling + dining out. Her articles about food, restaurants and travel have appeared in many newspapers and magazines, including The Boston Globe, The New York Times City Section, The New York Daily News, Dean & Deluca's Gourmet Food Blog, Hauteliving.com, The New York Sun, Relish, Time Out, Citysearch.com, Papermag.com, among other publications. Tracey loves finding the best places to eat in NYC and around the world, plus cooking and creating recipes in her NYC kitchen, using the abundant ingredients she finds in NYC's specialty food stores. She was a contributor to Savoring Gotham: A food lover's companion to New York City, and is busy at work on a cookbook: The NYC Kitchen.
Tracey was twice awarded fellowships in fiction from The Ragdale Foundation, where she worked on her upcoming novel, The Patisserie of Dreams. Originally from Boston, Tracey now lives in Carroll Gardens in Brooklyn, NY with her almost 8-year old daughter, Sabrina, who does not like mashed potatoes, but loves Thai and Indian cuisine—and helping her mom roll out pizza dough for Friday movie night.