Copenhagen's most pleasurable places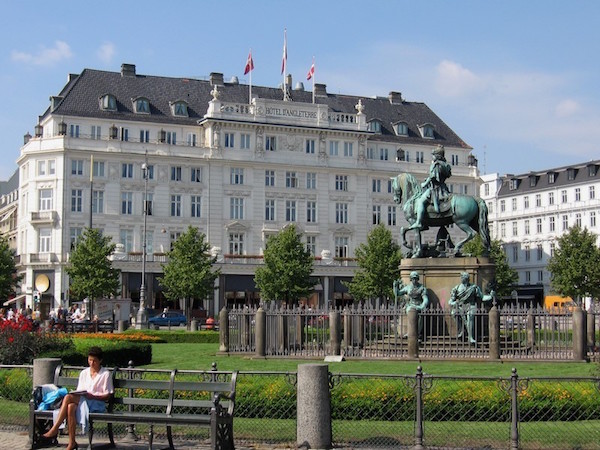 As I'm walking down picturesque Nyhavn, inarguably Copenhagen's most photographed street where crowds convene and selfie sticks abound, I see a sign in a dusty window of a beauty shop that describes hygge. The sign reads: Hygge (n) a complete absence of anything annoying or emotionally overwhelming; taking pleasure from the presence of gentle, soothing things. I'd heard of this concept but hadn't jumped on its bandwagon, for urban living isn't exactly conducive to gentle, soothing things.
But here in Copenhagen I leaned into the idea of hygge as easily as being wrapped in the warm blankets handed out at the outdoor tables of the restaurants that line the cobblestone street. Why sit indoors and miss the sites and sounds of this bustling old port? Here, even in brusque weather, you can sip a coffee, beer or glass of wine, all the while taking in the views of the 17th century waterfront with its brightly-colored townhouses and centuries-old wooden ships, which is how I spent the beginning of my three days in one of the most storybook cities I've visited.
Here's how you can spend a glorious three days (or more!) of hygge in Copenhagen
Where to stay:
Befitting for the fairy tale atmosphere felt throughout Copenhagen (which is the birthplace of Hans Christian Anderson after all), the iconic D'Angleterre is by far the optimal place to spend a getaway full of hygge, that warm feeling spent with loved ones. Situated in an ideal location, just across from Nyhavn and near Stroget, Europe's oldest and longest shopping street, the D'Angleterre is the epitome of hygge. A stunning foyer, a Michelin-starred restaurant helmed by an award-winning chef, the modern-elegant atmosphere, the peaceful, serene rooms, and charming, kind-hearted staff make for an outstanding, stylish stay.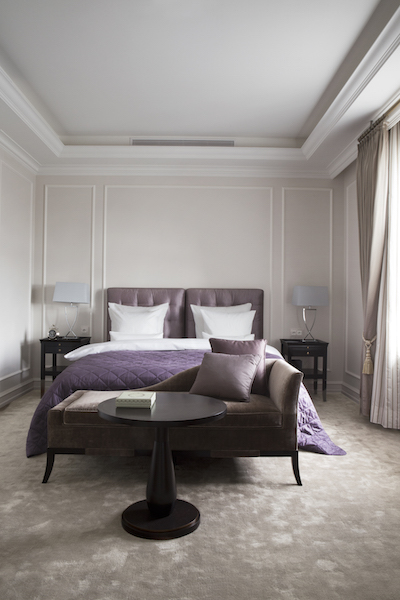 Day One:
Wake up in the luxurious linens in your modern, tasteful room at the Hotel D'Angleterre. Hopefully you've ordered breakfast in bed. Get the smoked salmon that arrives with all the accoutrements and some Danish bread, along with a large cappuccino. Breakfast arrives on a table that's wheeled into the room so no need to move your breakfast to a table.
Head over to Hyvan and take some photos, especially when the light is illuminating the gorgeous old colorful buildings. Stroll along the waterfront on Toldebodgarde and visit the original Little Mermaid statue. Stop by the Gefjon Fountain to see the statue of a Norse goddess, then walk into the pretty St. Alban's Church for a glimpse of beautiful stained glass windows.
Danes are known for their aesthetics, so head to the nearby Danish Museum of Art & Design for the extensive permanent design collection from around the world or for new exhibitions or to the Dansk Design Center. Then stop off at stately Amalienborg, the winter residence of the Danish Royal Family. If you arrive at 11:30 you can watch the pageantry when a parade runs from Rosenborg Castle to Amalienborg. For lunch, stroll along Nyhavn over to Copenhagen Street Food and enjoy the local artisan food and drinks. On the walk back, stop into the North Atlantic House, a cultural center and home to the former Noma restaurant, for coffee and browsing the Danish wares.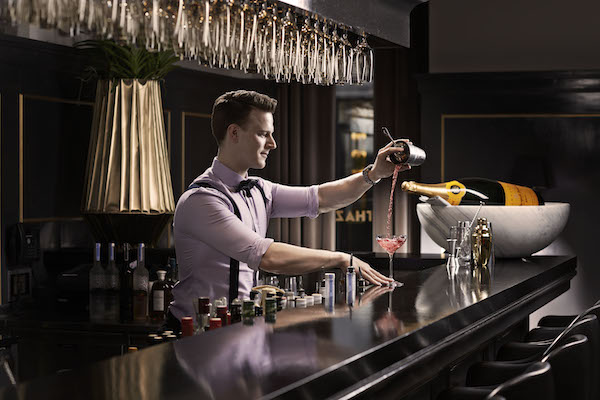 In the afternoon, head back to the Hotel D'Angleterre to relax and freshen up—or sip a wine from the bottles displayed in the wine drawer—before dinner. Since the hotel boasts a Michelin-starred restaurant, Marchal, you can simply walk downstairs for a swoon-worthy dinner. The menu changes frequently (there is always caviar for those inclined) but you can expect such modern Danish dishes as steamed turbot in brown butter vinaigrette, squid with oysters, caviar, and green almonds, and duck for two and for dessert, Baked Alaska or Gooseberry Flambée. Later, sip a glass of Champagne or a signature cocktail, like the Crossroads, at the chic and sleek Balthazar Champagne Bar.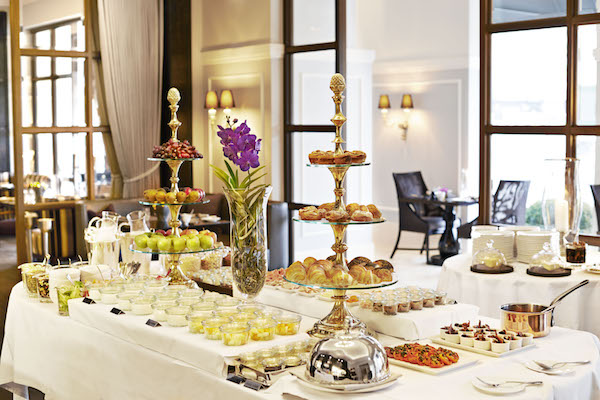 Day Two:
Wake up and head downstairs to the D'Angleterre's abundant breakfast buffet: pastries, salmon, eggs—all to be enjoyed in the lush setting along with coffee and cocktails. Weather permitting, go to Tivoli Gardens, a must-see in Copenhagen, for its rides, gardens and overall fairy-tale atmosphere. Later, stroll along Stroget, for people-watching and shopping. You may like the posh Danish department stores Ilums Bolighus and Magasin de Nord, both of which have sleek Scandinavian furnishings and clothing, and there are plenty of boutiques in the area to keep your senses busy. For lunch or afternoon coffee and dessert, Royal Smushi Cafe, located down a charming alley, is a festive spot.
For dinner, reserve a table at Kokkeriet, which like Marchal, boasts a Michelin star for its gorgeous, creative contemporary Instagram-worthy cuisine. Or industrial-chic Amass Restaurant, where you can dine on equally-gorgeous food from Chef Matt Orlando who has a holistic approach to the entire cooking and dining experience.
Day Three:
After breakfast, walk over to the Christiansborg Palace, home to the Danish Parliament, the Danish Prime Minister's Office and the Supreme Court of Denmark. At the palace, you can admire the royal rooms, chambers, art, furniture and tapestries of this baroque castle with its 1,000 years of history. Circle back to Stroget for more shopping. Visit the round tower, an observatory and planetarium that dates back to the 17th century. Stroll through the King's Garden, then have lunch at Orangeriet—perhaps a Smørrebrød, an open sandwich (Rye bread with avocado, lime, olive oil, goat cream cheese and pickled greens and many other options or oysters, lobster, or duck confit. Time permitting, stop into the David Collection, for decorative and early European art.
Head back to the D'Angleterre and try one of the healing spa services—or take a dip in Copenhagen's only indoor pool. Spend your last night ordering room service from D'Angleterre's impressive kitchen, enjoying your last evening in Copenhagen nestled in after a memorable and enjoyable hygge-filled experience.
Travel Tips
Book your room at The Hotel D'Angleterre, located on

Kongens Nytorv 34, 1050 København K, Denmark

How to get to Copenhagen: Check out my review of Norwegian Airlines (coming soon!).
Interested in learning more about hygge before your trip. Check out this best-selling book.