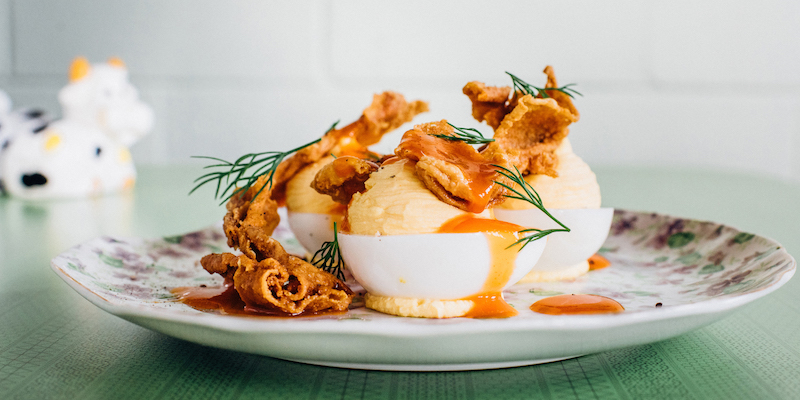 This Easter, Try Something New with These 5 Impressive & Easy Easter Recipes
Looking for something new to make this year for Easter dinner? Here's an entire dinner of easy Easter recipes for you, from appetizer all the way to dessert—and they're all 100% swoon-worthy, thanks in part to one star ingredient. All these recipes have one thing in common: Dijon mustard, which is a must for any home cook (I'm always partial to using Maille, which I feature in my cookbook). I recommend that you keep Dijon mustard stocked: it's tangy, smooth, and adds a depth of flavor to every dish it touches, even the chocolate dessert below.
Start off Easter dinner with these deviled eggs from Turkey and the Wolf, a quirky little spot serving incredible food in New Orleans. Oh, and it was recently voted #1 restaurant from Bon Appetit magazine. The photo above includes chicken skins, which I didn't include. If you'd like this recipe, feel free to email me and I'll send it right over.
Deviled Eggs with Hot sauce, and Dill
From Mason Hereford, owner of Turkey and the Wolf
Recipe yields 8-12 deviled eggs, depending how full you like your whites
Ingredients
For the deviled eggs
6 hard-boiled eggs
2 tablespoons mayonnaise, preferably Duke's
1 heaping teaspoon Dijon mustard, preferably Maille Dijon
2 teaspoons Louisiana style hot sauce, preferably Crystal
the juice of one half lemon
Kosher salt
To Garnish
Fresh dill sprigs
Fresh cracked pepper
Your go-to mild hot sauce. The chef of Turkey and the Wolf makes his own, but he recommends Crystal Hot Sauce.
Directions
Make the hard-boiled eggs. When they're ready, peel them, then cut each one in half lengthwise. Remove the yolks from the whites. Rinse the whites in cold water to remove any excess yolk left behind. Press the yolks through a fine mesh strainer into a mixing bowl to do away with any clumping. Next, add to the mixing bowl the mayonnaise, Dijon mustard, lemon juice, and hot sauce. Season the mixture with kosher salt to taste. Try not to overwork the egg yolk mixture. The resulting product should be slightly fluffy and not too loose. When ready to serve, use a piping bag or the corner of a ziploc bag to pipe the egg filling into the whites. Depending on how full you like your deviled eggs, you will end up with 8-12 portions.
To serve, arrange your eggs on a serving platter, fill the whites with egg yolk mixture,  drizzle with hot sauce, fresh cracked pepper, and some torn sprigs of fresh dill.
***************************
Spring Greens and Shaved Celery Salad with Mustard Vinaigrette
Ingredients
1 small shallot, finely chopped
3 tablespoons olive oil
2 tablespoons of Maille Dijon mustard
2 tablespoons Sherry vinegar
Kosher salt + freshly ground pepper
3 celery stalks, shaved with a mandoline slicer (one of my favorite kitchen tools) or very thinly sliced
1 small bunch arugula
2 tablespoons chopped pitted green olives
2 tablespoons grated Parmesan
Directions
Whisk together shallot, oil, mustard and vinegar in a large bowl; season with salt and pepper. Add celery stalks and leaves and arugula; toss to coat. Garnish with olives and cheese, if desired.
***************************
Brown Sugar Mustard Glazed Ham
Ingredients
¼ cup Maille Dijon Mustard
Cider Vinegar
1 cup light brown sugar
Skinless smoke cured ham
Directions
Preheat oven to 350 degrees. Place ham on a rack in a roasting pan and bake for 1 1/2 hours. In a bowl combine the sugar, mustard and vinegar and spread glaze evenly over ham. Bake for another 35 minutes Transfer ham to a platter and let stand 15 minutes before carving.
***************************
Honey Ginger Glazed Carrots
Ingredients
1 lb of carrots peeled and sliced
2 tablespoons butter
½ teaspoon ginger, minced
3 tablespoons honey
2 tablespoons Maille Dijon mustard
1 tablespoon sesame seeds
1 pinch salt
1 pinch pepper
Directions
Peel and slice carrots. Boil approximately 10 minutes until cooked. Strain and set aside. Keep the carrots warm. Meanwhile, add the sesame seeds to a hot non-stick fry pan. There is no need to add any oil. Toss sesame seeds until toasted. Remove from the heat and set aside. Melt the butter in the hot fry pan. Add ginger and cook for one minute. Remove from heat. Add the honey, mustard, sesame seeds and a pinch of salt and pepper. Stir to soften. Pour the glaze over the cooked carrots.
***************************
Chocolate Ganache Tart
Ingredients
For the tart shells
1 ½ cup salted butter, room temperature
¾ cup confectioners' sugar
2 tbsp. Maille Dijon mustard
4 tbsp. honey
1 ¾ cup salted mini-pretzels, crushed
1 ½ cups all-purpose flour
1 egg
¼ tsp. salt
Ganache
10 oz. semi-sweet chocolate chips, melted
1 ½ cups of heavy cream
12 oz. dark chocolate, chopped
Sea salt for sprinkling on top
Directions
Cream butter in electric mixer with paddle attachment until smooth, about 30 seconds. Add confectioners' sugar mustard, honey and pretzels. Blend on low speed until combined. Slowly beat in flour, egg and salt. Add 4-6 whole mini-pretzels to dough and blend quickly — just breaking them up but leave the pieces large enough to add a fun crunch to the crust. Remove dough and wrap in plastic wrap for at least 2 hours or up to 2 days.
When the dough is ready, remove dough and let stand until warmed up, about 25 minutes.
Preheat oven to 375°. Spray 2 fluted tartlet pans (with removable bottom) or 9-in. fluted tart pan with removable bottom with no-stick baking spray, then lightly coat with flour; set aside.
Roll dough out to about ¼-inch thick. If dough breaks, just pinch it back together. Gently press into prepared pans* and up the sides. Pierce bottom of crust several times with a fork. Run knife along edge to remove any excess dough. Bake for 18 minutes or until golden brown. Remove and let cool completely. The crust will firm up to a lovely crunchy texture as it cools.
When your tart shells are completely cooled, paint the inside of each tartlet or tart with a thin coating of melted dark chocolate. Refrigerate.
Meanwhile, heat heavy cream in saucepan over medium heat just to boiling point; remove from heat and stir in chocolate until chocolate is melted. The mixture will resemble a dark chocolate pudding. Keep whisking 2 to 3 minutes, then let stand until completely cooled, about 30 minutes.
Pour into prepared shells, then sprinkle with sea salt. Refrigerate until ganache is firm.
Make up to four days ahead (store tarts at room temperature).