Enjoy this banana bread drizzled with vanilla icing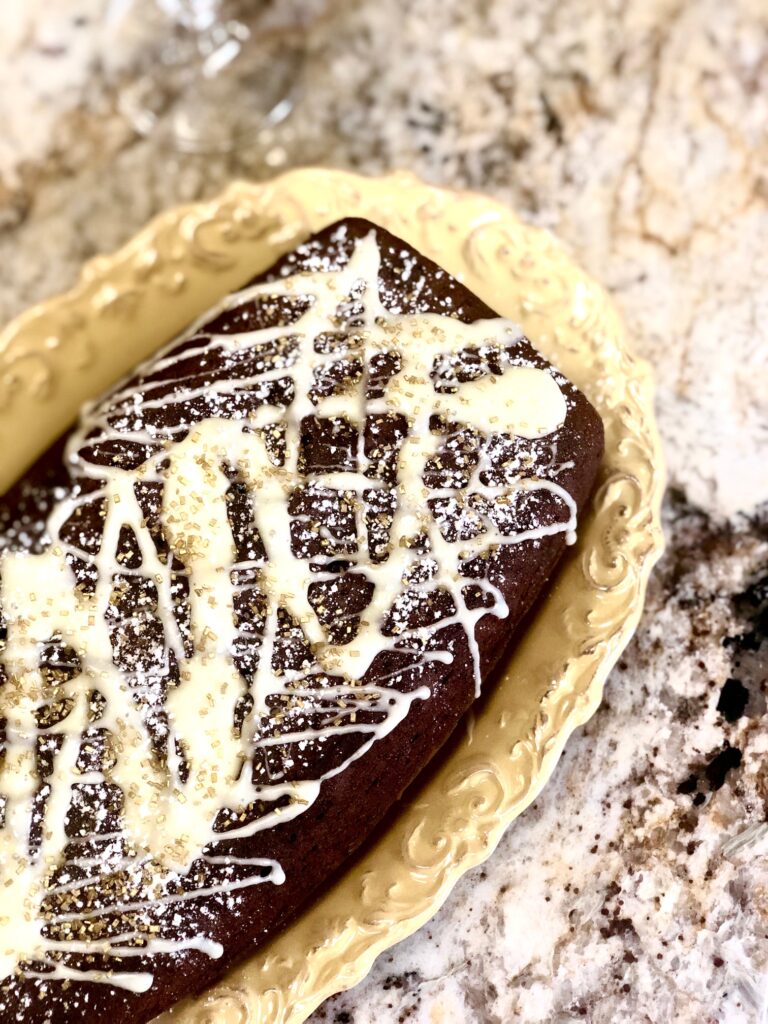 I buy bananas all the time, yet they don't always get eaten when they're in their prime. Thanks to the magic of baking, they do get transformed into desserts like this banana bread. I share a recipe for it in my cookbook, but for this rendition I've made some changes: the addition of cocoa powder and rum instead of my usual cardamom and bourbon. Add some chocolate chips or nuts if you like. You can ice it with the icing recipe below or simply dust it with powdered sugar (or both as I've done).
4 very ripe bananas
1 egg
2 tablespoons rum
2 teaspoons Nielsen-Massey vanilla
1/3 cup of butter
1 cup of sugar
1 1/2 cups of flour
1/3 cup of cocoa powder
1 teaspoon of baking powder
1 teaspoon of baking soda
1/2 teaspoon of salt
1/2 cup of chocolate chips (optional)
For the icing: 1/2 cup of powdered sugar, 1/2 teaspoon of vanilla and about 1 tablespoon of milk
Butter a loaf pan* and preheat oven to 350 degrees Fahrenheit. Combine bananas, egg, rum, and vanilla. Mash all of this together. Add the remaining ingredients and mix until thoroughly combined. Bake for 50-55 minutes.
Remove the banana bread from the oven and cool for 15-20 minutes. Then remove from the cake from the pan and cool for an additional 15 minutes. Make the icing by mixing the powdered sugar with vanilla or rum, plus the milk. Add additional milk and/or sugar until the sugar is dissolved and the right consistency to drip over the cake. Take a spoon and drizzle over the cake. Enjoy!
*Tip: I use a silicone loaf pan and I never have to butter it.
Have you always wanted to write a cookbook? If you feel like it's finally time, sign up to get my guide: 5 Tips to Get Started on Your Cookbook Today! Click here.
Looking for inspiring dishes to make for dinner? Join The Fernweh Dinner Party Newsletter for recipes from around the world.