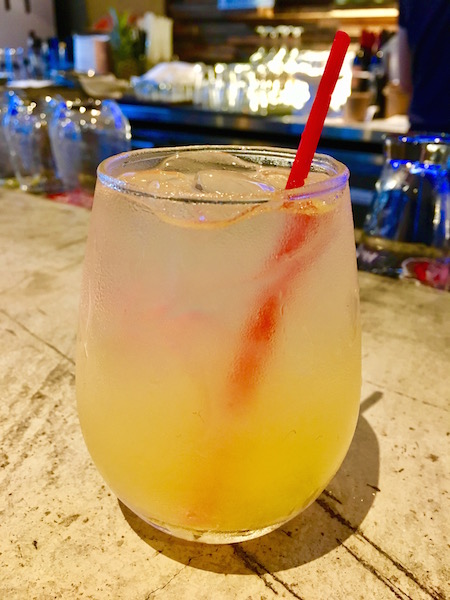 A 9-course Korean Bacon Omakase dinner? I was intrigued. Which is how I found myself in Williamsburg one Saturday evening sitting at the bar of Belly Korean Bacon Shop. While I was walking around looking for Belly, I felt liked I'd been dropped into a movie set of what life would be like as a twenty-something with cool clothes. But, well beyond my twenties, I leaned into the scenery as anyone who likes a multi-course dinner containing bacon would.
Nathan, the amiable bartender, handed us the menu of straightforward-sounding cocktails, most of which were with either sake or soju, a clear distilled Korean alcohol.
I ordered the White Sake Sangria first and later the Grapefruit and Ginger with Sake. Nathan also gave us samples of the Cherry and Lime with Soju. None of the drinks contain sugar, only the sweetness of the fresh fruit comes through, and all the drinks I tasted were refreshing antidotes to sip along with all the bacon dishes that arrived with excitement from the minuscule kitchen.
The bar is definitely the place to sit. Cocktails arrive in moments and you can watch the chef at work in the kitchen, which is just adjacent to the bar. Johnny, the host/manager, stopped by occasionally, either with a new dish or to check in on what we were eating, making us feel welcome, which is always appreciated,
Since I dined there a Saturday or two ago, Belly has come out with Bacon Omakase 2.0, so I won't bore you with the dishes I tried (bacon carpaccio, bacon sushi, pasta all Belly, which was my favorite) and bacon schnitzel, which was also at the top of the list. You can see some of the photos above.
Here are some of the new dishes:
Homemade liver mousse
Bacon sushi 2.0
Chicarron de Belly
Grilled bacon
Surf and turf
…and even more courses, including a dessert that contains bacon chips!
The drink menu has some new cocktails, too, including the Belly House Cocktail that's made with chocolate topped with candied bacon.
If you find yourself looking for an adventurous meal, head over to Belly Korean Bacon Shop. You could see a movie across the street at Williamsburg Cinemas first, but don't eat any movie snacks: save room for the bacon extravaganza.
Belly Korean Bacon Shop is located at 219 Grand Street on the corner of Driggs Ave in Williamsburg.