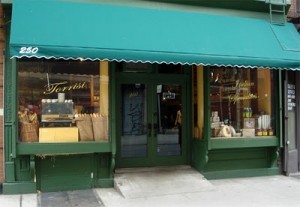 Yesterday after taking S to the Children's Museum of the Arts, I stopped into Torrisi for lunch and I can't wait to return. The sandwich of Italian cold cuts had drizzles of olive oil and vinegar, and just enough peppers to add spice that wasn't overpowering. Although the sandwiches are the highlight at lunch (crowds were milling about outside for chicken parm, house roasted turkey and potato, egg and provolone), the antipasti dishes are noteworthy, and I am definitely ordering more of those next time. Asparagus came with slivers of red onion and a dressing that was both lemony and spicy, with a touch of cheese. This is like an old-school deli, only one that's been updated and elevated for those with refined taste.
The fading and dreary Italian neighborhood just south ought to take some direction from owners Torrisi and Carboni (who've worked in many top NYC restaurants, including A Voce and Cafe Boulud) for this Italian "deli" is a much-needed gem in the neighborhood.
Dinner is an altogether different experience I haven't yet tried, but stay tuned.
Sam Sifton of the New York Times liked it, too. Click here for his review.
Torrissi Italian Specialties/250 Mulberry St just below Prince/212-965-0955/closed on Mondays.