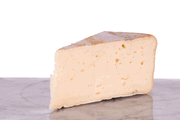 I am going to say something I've already said here: I'm so glad I live near Di Palo's Fine Foods. If ever I were to move, this is one place in the neighborhood that I would miss.
Take the case of this cheese. I was eyeing it and asked one of the very friendly owners (who are brothers) for a taste. Passionate about cheese, of course he obliged. And fortunately for me, it was a steamy hot day and the store wasn't crowded as usual. The Toma Piemontese, a soft cow's milk cheese from the Piedmont region of Italy, is so incredibly creamy and buttery I couldn't resist buying some to take home. There's nothing like having good cheese to nibble on throughout the day as I play with my daughter.
Toma Piemontese is flown in from Italy and is available at:
Di Palo's Fine Foods/200 Grand St (at Elizabeth)/212-226-1033

And you can always go next door for a bottle of wine.