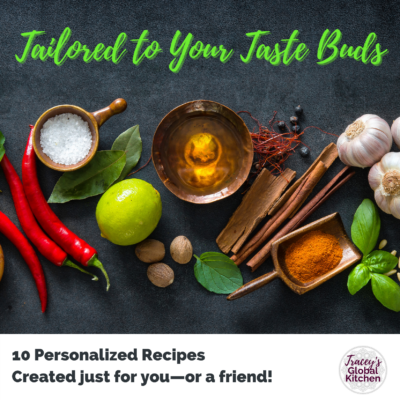 Are you getting bored with the same old dinners every night?
In this personalized workshop, you'll leave bland and boring behind with new recipes and ideas tailored with your tastebuds in mind.
This workshop is for you if:
You're tired of the same recipes you've been making over and over and over…the chicken dishes you've been eating for years…the boring pasta with sauce…the tiresome side dishes.
…the list of bland goes on.
Or maybe you're tired of takeout you've been ordering..all that unhealthiness and grease, not to mention plastic.
I understand and I want to help you.
As someone who seeks out ingredients to make flavorful food the way other women search for the latest beauty product at Sephora, I am all about experimentation in the kitchen. And as much as I love dining out, that just isn't the best option these days (thanks, COVID), so I've been home creating new recipes on a daily basis for me and my family (so they don't get bored either).
"Tracey captures the essence of what it's like to pick up ingredients in a city bustling with shops and flavors. Her recipes are fun, approachable, and make cooking in New York an exciting adventure."—MAILLE US
With Tailored to Your Taste Buds, you'll receive recipes, tips + techniques personalized just for you.
To get started, I will send Your Flavor Profile Questionnaire, which you will fill out.
Then you'll receive:
A PDF with 10 recipes tailored just for you
A list of ingredients to keep stocked for fun and tasty weeknight meals
A 30-minute Zoom call to go over kitchen tools and techniques
Email support for 2 weeks after you receive your recipes
Who am I?
Tracey Ceurvels is a food and travel journalist and the creator of the cooking and travel blog, Tracey's Global Kitchen (formerly The NYC Kitchen). Her articles and recipes have appeared in The Boston Globe, The New York Times, The New York Daily News, Relish, Time Out, among other publications. She is the author of The NYC Kitchen Cookbook.
"The NYC Kitchen Cookbook reflects its namesake city perfectly. It's a melting pot of spices, ingredients, and dishes from around the world that can only come together in a city like New York."—LINNEA JOHANSSON, AUTHOR OF FOOD FOR FRIENDS
Once you sign up, I'll send Your Flavor Profile Questionnaire. When you send that back I'll spend about a week (or less) creating your recipes.
"For me, traveling to New York City is an epicurean adventure, made even better when Tracey is my guide. Some leave the city with the latest designer handbag. Not me. I leave the city with exotic salts and chocolate from The Meadow, ancient grain pasta, a jar of fig jam from Il Buco, savory spices from Kalustyan's, and so much more. Yes, I wouldn't think of visiting NYC without Tracey's guidance."—Sue Ann Gleason, culinary nutritionist and nourishment guide
Sign up for Tailored to Your Taste Buds if:
you're tired of the food you've been cooking and eating
you want some fresh ideas for dinner
you're excited to spice things up in the kitchen
you're hungry…for something new
Order through PayPal below or you can pay via Venmo: @tracey-ceurvels
Any questions? Email traceysglobalkitchen@gmail.com