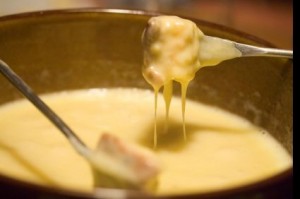 Several years ago I was in Amsterdam around this time of year. I remember finding the cutest fondue restaurant, one in which customers were required to climb a ladder to get to the dining room. Of course the climb was well worth it, but getting back down that ladder after imbibing wine and eating lots of wine-laced fondue was another story. But the experience stuck in my mind and I've loved fondue ever since, even when I haven't been able to replicate that experience.
Fast-forward to the present: One cool fall evening, I found myself (with husband and daughter in tow) in the suburbs of NYC at a subterranean fondue restaurant, The Melting Pot. Fondue is such a fun dinner experience, the presentation, the variety and all that dipping. We got the Big Night Out Four-Course dinner: Swiss cheese fondue to start, a salad, and then a mushroom, herb + wine broth into which we dipped a large variety of meat + fish (their Land & Sea option), plus vegetables, and then of course chocolate fondue, which arrived with pound cake, berries, marshmallows and fruit slices for dessert. What a feast!
As I sat there, I thought how fun it would be to make fondue at home, so I was happy that The Melting Pot shared their Swiss Fondue recipe with me. And I immediately bought myself a fondue set (see below for options). Even if it comes out of the cabinet only a few times a year, it's worth it.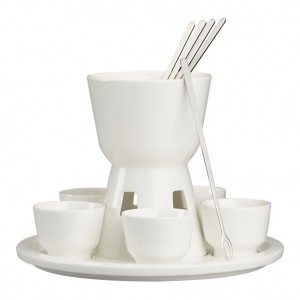 Swiss Fondue
Serves 4-6
Recipe courtesy of The Melting Pot
3 1/2 cups shredded Swiss cheese
2 tablespoons all-purpose flour
1 cup white wine
2 tablespoons fresh lemon juice
2 teaspoons finely chopped garlic
1 ounce cherry-flavored liqueur, such as Kirschwasser
1/2 teaspoon freshly-ground pepper
dash of grated nutmeg
Ahead of time: cut cubes of bread and/or slice a variety of fruit and vegetables of your choice, perhaps carrots, broccoli, peppers, apples and more for dipping into the fondue.
Make the fondue
Toss the cheese with the flour in a bowl. Place a metal bowl over a saucepan filled with 2 inches of water. You may also use a conventional double boiler. Bring the water to a boil over high heat. Reduce to heat to medium and pour the wine into the bowl. Stir in the lemon juice and garlic using a fork. Cook for 30 seconds, stirring constantly.
Add half the cheese and cook until the cheese is melted, stirring constantly. Add the remaining cheese, a small amount at a time, stirring constantly in a circular motion after each addition until the cheese is melted. Pour the liqueur slowly around the edge of the bowl. Pull the cheese mixture away from the edge of the bowl nd cook for about 1 minute or until the alcohol cooks off. Stir the liqueur into the cheese. Stir the pepper in gently. Pour into a warm fondue pot and keep warm over low heat. Garnish with a dash of nutmeg.
Note: The cheese is shredded and tossed with flour to aid in thickening and to improve the viscosity of the fondue, which should be the consistency of warm honey when completed. Monitor the cheese as you add it, adding more or less as desired.
Great gift idea for hedonistic cooks: Crate & Barrel offers several cute fondue sets, from cast iron to electric, plus dipping forks.
For more information on The Melting Pot or to find a location near you, visit their site.