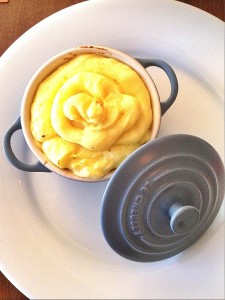 As I was cooking she came over with a spoon to take a bite. "Mmm," she said as tasted the beef/carrot/pea mixture I'd made. This one sound, "Mmmm," is what pleases me when I've made dinner, because cooking for an almost 7-year old can, from time to time, be a challenge. But being my daughter, S is adventurous and will try new dishes that other kids might scoff at. And this dish is hardly "adventurous."  When you're combining a tangy meat mixture with creamy potatoes for shepherds pie, you really can't go wrong, now can you?
What inspired last night's dinner was the fact that it was St. Patrick's Day, plus these adorable mini cocottes from Le Creuset. There are so many dishes I plan to make in them but in honor of St. Patrick's Day, I started with this shepherds pie recipe into which I added some Guinness for an extra kick of flavor.
Last year I went to a butcher shop I like in Brooklyn, which shall remain nameless a.) because I still like shopping there, and b.) because the piece of corned beef they gave me was entirely fatty. This year I decided to skip the corned beef and instead make this shepherds pie recipe, as I had a hunch it would be a dish that my daughter would like. (What to make her for dinner is always on my mind.)
It's still cold enough outside that a hearty dish is still an option for dinner. (Did you feel those cold winds this morning?)
And, if you have a friend who loves to cook, I'm certain they'd love these Le Creuset cocottes, which come in all the usual beautiful colors for which Le Creuset is known. Now I need to decide what to make in them next.
Shepherds Pie Recipe

Print recipe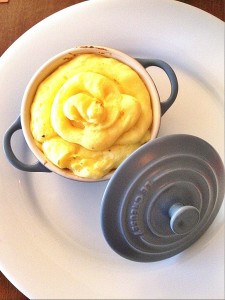 Ingredients
5-6 potatoes (peeled)
2 tablespoons of olive oil
1 yellow or white onion (sliced)
3 cloves of garlic (minced)
1/2 cup of sliced carrots
1 1/2 pounds of ground beef (you can also use lamb, which is more traditional))
1 tablespoon of flour
1 tablespoon of tomato paste
1 cup of beef stock (or chicken)
1/4 cup of Guinness (or another dark beer)
2 teaspoons of thyme (preferably fresh but dry is okay)
1 teaspoon of Worcestershire sauce
1/3 cup of peas
2 tablespoons of butter
2 tablespoons of sour cream
1/2 cup of milk
salt and pepper (to taste)
1 egg yolk
Directions
Boil the potatoes until soft.

Meanwhile, make the beef mixture. Add olive oil to a large skillet over medium heat. Once the pan is hot, add the onions, garlic, and carrots. Cook for 3-4 minutes, stirring occasionally, until the onions are translucent. Add in the ground beef, chopping it up with a large spoon as you stir until the meat browns. Sprinkle with flour and stir to combine. Add in the tomato paste, stock, Guinness, thyme, Worcestershire sauce, salt and pepper and simmer for about 8 minutes. Add the peas and cook for another 2-3 minutes, adding more stock if the mixture becomes dry.

When the potatoes are cooked, add to a large bowl. I used a KitchenAid mixer, but if you have a blender you can use that. Add the butter, sour cream, milk, and salt and pepper—and blend. When the ingredients are combined, add an egg yolk and continue to blend until mixed.

Preheat the oven to 425 degrees Fahrenheit. Add the meat to a casserole dish. I used 3 small "cocottes" casserole dishes from Le Creuset plus a glass pie pan. Then either with a large spoon or a pastry bag, add the potatoes to the top of the meat.

You can get the cocottes here: http://www.lecreuset.com/set-of-3-mini-cocottes.

Bake in the oven for 20-25 minutes. Enjoy!