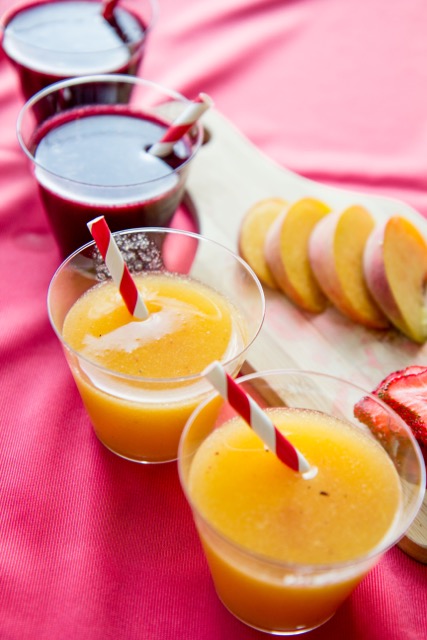 White wine slushies…what could be more refreshing on a hot sultry evening? And what's great is that they're so easy to make. Add a bottle of wine and some frozen fruit to a blender, plus a couple of other ingredients, and—voila—your frozen adult slush is ready.
I keep a case of Jam Jar Wines on hand for drink recipes and these boozy sliders. Jam Jar makes super affordable and tasty wines—they're great everyday wines, and especially good blended in these two recipes.
Get started with these two white wine slushies, but as always, feel free to experiment and make your own. Try frozen blueberries perhaps, or mixed berries, add some mint or basil—you really can't go wrong.
Peach Slushie
Serves: 4
Ingredients
1 bottle Jam Jar Sweet White
1 bag frozen peaches
½ cup sugar
Make the slushie
1. Combine the Sweet White and peaches in a blender and puree until smooth.
2. Depending upon your consistency preference, freeze for roughly 30 minutes before serving.
3. Garnish with a peach slice!

Servings:
pitcher (Serves 6-8)
Puree strawberries in a blender. Then add the rest of the ingredients (Sweet White, lemonade, sugar and ice) and blend.

Pour the mixture into ice cube trays and freeze until solid.

When ready to serve, puree the ice cubes in a blender to your desired consistency.

Garnish the glasses with a strawberry!