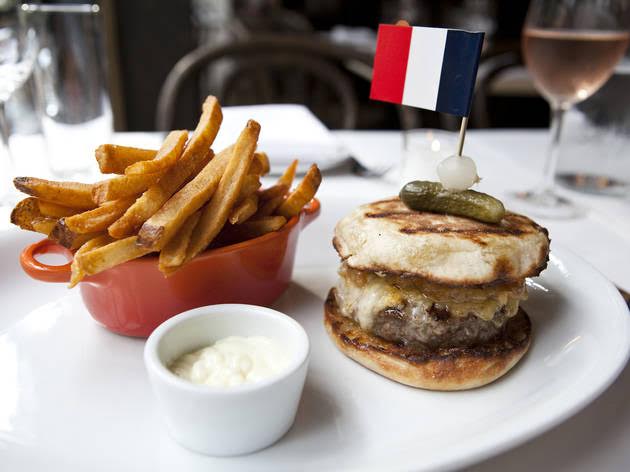 When it comes to burgers, sometimes it's fun to skip the classics and mix it up with different flavors and ingredients. Take this unique burger recipe: the French Onion Soup Burger is an all-American classic turned French with the addition of béchamel, Maille cornichons and Dijon mustard, thanks to Paul Denamiel, Executive Chef and Owner of the French bistro Le Rivage in New York City.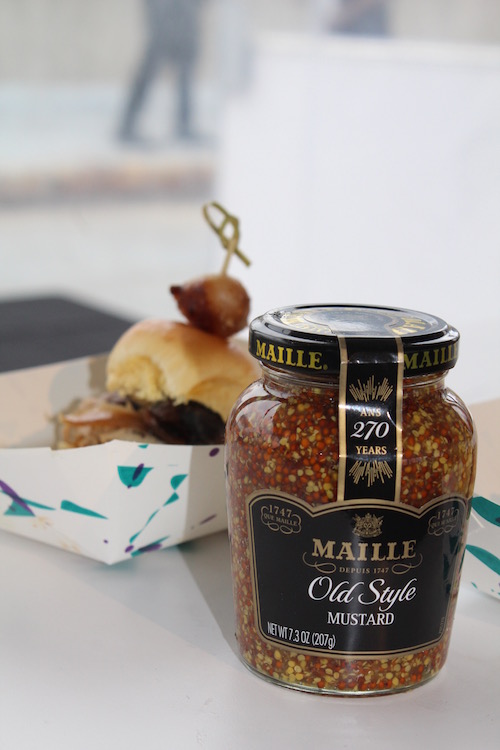 Chef Denamiel's burger, which is served on an English Muffin, recently won the judges' choice at the Food Network and Cooking Channel New York City Wine & Food Festival's 10th Anniversary Burger Bash Hosted by Rachael Ray. Fortunately, Chef Denamiel shared his winning recipe with us.
For dinner one night, try pairing the burger with this Pinot Noir.
Oh la la!
For more of Chef Denamiel's creative French fare, head to his charming, old-world restaurant.
Le Rivage is located at 340 W 46th St, New York, NY.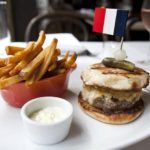 Béchamel sauce In a heavy-bottom saucepan, melt butter. Whisk in flour, stirring constantly, about 2 min. Mixture will bubble. Do not let it brown. Whisk in hot milk, making sure there are no lumps and mixture is smooth. Continue to stir as sauce thickens. Add in teaspoon of Maille Dijon mustard. Bring to a boil. Add salt and pepper, lower heat, and cook, stirring for 2–3 min. Remove from heat. To cool this sauce for later use, cover it with plastic wrap. Set aside.

Burger Peel onions and cut them in half, lengthwise. Cut into thin half-moon slices. Over medium heat, sauté onion with 4 tbs. olive oil and thyme sprigs until caramelized. Add stock and cook until most is evaporated. This may take about 20 min. Remove thyme sprigs. Salt and pepper. Set aside.

Heat a grill pan over high heat. Lightly brush pan with olive oil. Generously salt and pepper both sides of each burger. Place burger on grill pan and cook 5–6 min. each side for medium burger. After burger is flipped, place cheese on top and cook until desired internal temperature is reached and cheese is melted.

Split the English Muffins with a fork. Toast and butter each side. Layer bottom English Muffin with Maille Dijon Mustard. Add meat and sautéed onions then top with tablespoons of béchamel sauce.

To top: Maille Caramelized Onion Cornichon and French flag on toothpick.