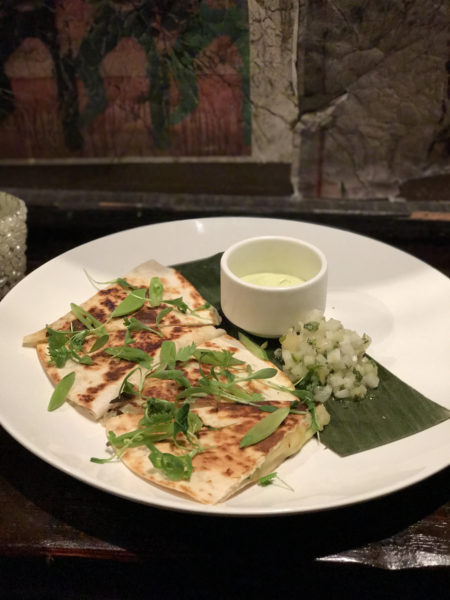 When Ricardo Camacho, executive chef of Añejo, the Mexican eatery in both Hell's Kitchen and Tribeca, ventured on a trip to Oaxaca, Mexico, he was immediately inspired by the flavors and food. When he came back, he brought this inspiration with him into the kitchen—and ever since he's been crafting new dishes, like this Summer Squash Quesadilla as well as this Roasted Mexican Chicken.
What you need at a glance:
You'll want to check out your nearest Mexican or Latin American shop for some of these ingredients, though stores like Whole Foods carry many of these items.
Guaje seeds (or use pumpkin seeds)
Mexican Crema (or use sour cream)
For the salsa verde, you'll need:
Tomatillos
White onions
Poblanos
Jalapeno
Cilantro
Epazote
Avocado
Or, if you're in a hurry, you could opt for buying fresh salsa verde.
Once you've made the guaje salsa, this dish is easy to put together. If you can't find guaje seeds, it's okay to substitute with pumpkin seeds. While the Mexican crema has a salty tangy flavor all its own, don't get bogged down if you can't find it. Sour cream will do as well.
Añejo has two locations: 668 10th Ave. at 47th St. in Hell's Kitchen and 301 Church St. at Walker St. in Tribeca. If you're in NYC, or come to visit, head to Añejo, for chef Camacho's other Mexican-inspire
= dishes.

Place sliced Chayote on a wire rack and lightly salt. Let sit for 10 mins. After 10 minutes, pat it dry to remove any moisture. On one side of each tortilla, place the chayote alternating between this and the zucchini. Place half of the cheese on each tortilla. Fold the tortillas then place them on a hot cast iron pan, on a griddle or in the oven to melt the cheese and crisp the tortilla.

Slice the quesadillas in half and place on the plate. Drizzle with guaje salsa over the top and garnish with micro cilantro and the snap peas.