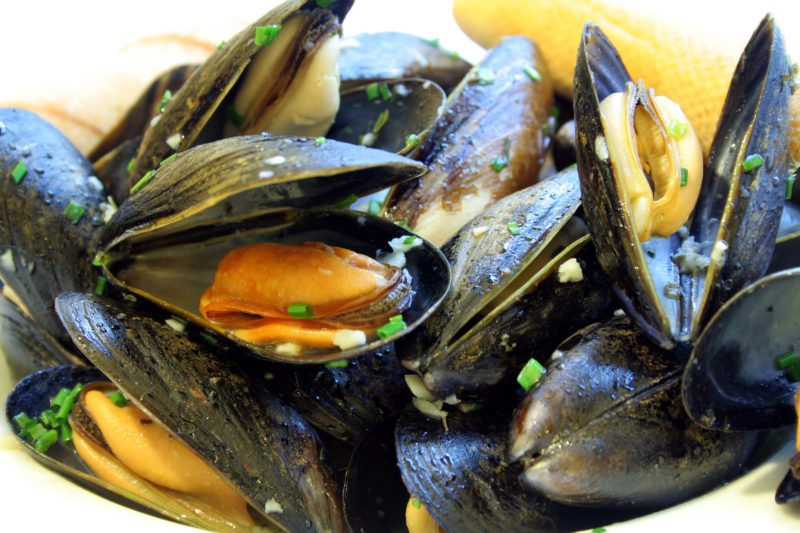 Steamed mussels with garlic and white wine might seem like something you'd order only when out to dinner at a French bistro. Yet they're surprisingly easy to make, and when paired with a salad and perhaps some fries, they make a complete weekday meal.
This recipe for steamed mussles is simple but you can use it as a base for your creativity: try adding chopped tomatoes, bits of chorizo, sliced fennel, some citrus zest…use your imagination. You really can't go wrong.
Origin
Steamed mussels are popular at French bistros and New England seafood restaurants, but you can definitely add in a variety ingredients to create different flavor profiles.
Other ideas
Add fresh oregano, lemon zest and juice, and ouzo for Greek flavors
Add coconut milk, lime juice and Thai basil for Asian flavors
Add harissa, tomatoes and berbere for Nother African flavors.
Add pancetta, tomatoes, red wine and basil for Italian flavors.
What you need at a glance
1 lb of mussels (1 lb per 2-3 people)
a crisp white wine
garlic
Herbes de Provence, a dry herb mixture comprised of herbs grown in the south of France, including rosemary, thyme, lavender, tarragon, oregano and others.
fresh herbs of your choice. I like: tarragon, chives, and/or parsley
Tip
Mussels are usually sold clean but if not, you can ask your seafood monger to clean them for you.
Need help organizing your meals for the week? Try the Edible Adventure Cooking Companion, a unique food planner to help inspire you in the kitchen. It's a food journal that was created for you to infuse dinnertime with exciting, adventurous flavors.

Servings:
4 as an appetizer, double for dinner
In a large pot with a cover, heat olive oil over medium heat. Add the shallots and sauté until translucent. Add the garlic and continue to sauté, stirring, another minute or two. Add the wine and chicken broth. Add the spices, salt, and pepper. Bring to a boil, then simmer for about 3-4 minutes. Finally, add the mussels and cover. When the mussels open, they're ready. This only takes a couple of minutes. Top with chopped herbs of your choice.