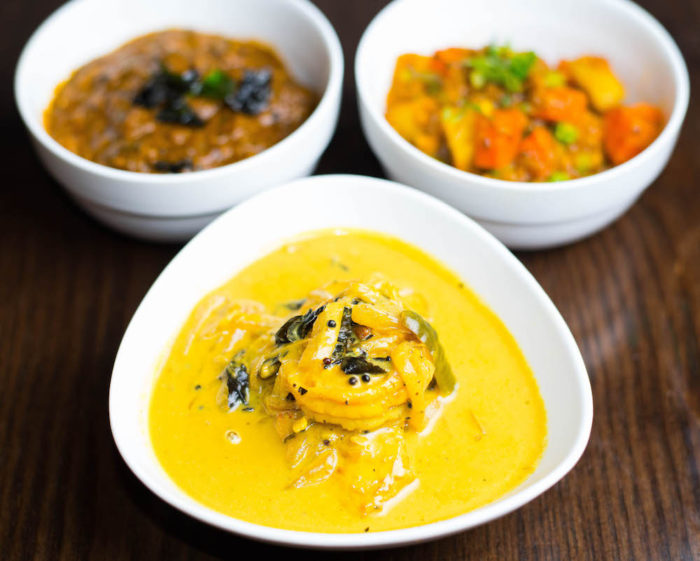 Astoria, Queens, has long been the place to go for Greek food, whether to grab an authentic Greek dinner at restaurant (one of my favorites is Ovelia) or to pick up delicacies at a Greek supermarket like Titan Foods (feta, olives, galaktoboureko), which I talk about in my cookbook.
Over recent years Astoria has transformed itself from mainly Greek to including so much more: Japanese, BBQ, beer gardens, and now Indian cuisine, thanks to hot spot Kurry Qulture.
Kurry Qulture's open front welcomes diners into its chic and modern bar area first, where you can grab a beer, wine or one of the creative cocktails, including Sin Till Late, a refreshing blend of blackberries, mint, St. Germain and Prosecco or the Astoria of My Life, which contains bourbon, sweet vermouth, thyme and figs.
Walk through the arches to the sultry dining room, where you can sit at a candle-lit table (or on the back patio, weather-permitting) and dine on such appetizers as chicken bukhni kabab with pineapple chutney, masala fried calamari, and the standout KQ cauliflower with garlic tomato chutney. Order the fragrant lemon rice to go along with your choice of main courses that include traditional yet elevated dishes like tandoori salmon, chicken vindaloo, several vegetarian options, as well as shrimp moilee with its silky sauce of coconut milk, mustard seeds and red chilies.
Since I liked the shrimp moilee so much I am sharing the recipe, thanks to warm and hospitable owner Sonny Solomon. Make this at home for a weeknight meal or, if you want the whole dining experience, get on the N train to Kurry Qulture. Please take my recommendation and order the Greek-inspired naan, that wonderful fluffy Indian bread. Kurry Qulture's version is topped with chopped black olives, in homage the neighborhood's roots.
Kurry Qulture is located at 36-05 30th Ave (between 36th and 37th St), Astoria, New York
In a pan add coconut oil, mustard seeds and curry leaves. Cook on medium heat until mustard seeds begin to pop. 

Add ginger and garlic, and cook for another two minutes. 

Add sliced onions, turmeric, red chili powder, cloves, cardamom, cinnamon stick, green chilies, dried red chilies, and cook for another 5 minutes, or until onion softens. 

Add coconut milk and cook until boiling. As it's boiling, add tamarind water, lemon juice and sugar, stirring for 2 minutes. Add water if sauce is too thick. 

Add the shrimp and cook for another 5 minutes. Plate in a bowl. Serve with rice or naan.