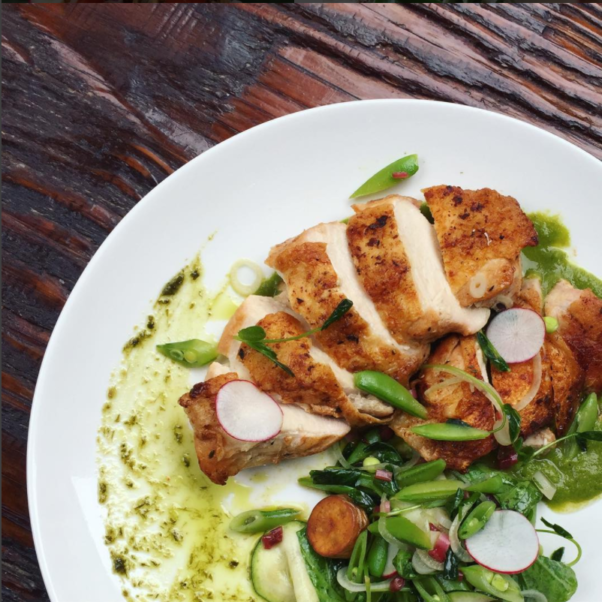 When Ricardo Camacho, executive chef of Añejo, the Mexican eatery in both Hell's Kitchen and Tribeca, ventured on a trip to Oaxaca, Mexico, he was immediately inspired by the flavors and food. When he came back, he brought this inspiration with him into the kitchen—and ever since he's been crafting new dishes, like this Roasted Mexican Chicken.
What you need at a glance:
You'll want to check out your nearest Mexican or Latin American shop for some of these ingredients, though stores like Whole Foods carry many of these items.
Guaje seeds (or use pumpkin seeds)
Mexican Crema (or use sour cream)
For the salsa verde, you'll need:
Tomatillos
White onions
Poblanos
Jalapeno
Cilantro
Epazote
Avocado
Or, if you're in a hurry, you could opt for buying fresh salsa verde.
Don't be alarmed by all the ingredients: the results of this roasted Mexican Chicken are so flavorful chicken you'll want to make it again and again. You'll love the spice of the chicken paired with the zesty "guaje salsa," also known as guaxmole, a traditional Mexican sauce made of guaje seeds. If you can't find these seeds, it's okay to substitute with pumpkin seeds. While the Mexican crema has a salty tangy flavor all its own, don't get bogged down if you can't find it. Sour cream will do as well.
Añejo has two locations: 668 10th Ave. at 47th St. in Hell's Kitchen and 301 Church St. at Walker St. in Tribeca. If you're in NYC, or come to visit, head to Añejo, for chef Camacho's other Mexican-inspired dishes.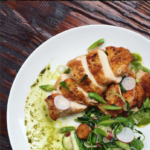 Servings

Prep Time

2

people

20

minutes
Servings

Prep Time

2

people

20

minutes
Cook the Chicken Season chicken with salt and pepper. In a sauté pan over high heat add 1 tablespoon of oil and when the pan is hot, sear the chicken for 3 minutes on each side until nicely browned. Meanwhile, preheat oven to 450 degree Fahrenheit. Add butter, thyme, and garlic to the pan. When the butter melts, baste the chicken 5 times then place the chicken in the oven. Roast the chicken for about 5 minutes or until the internal temp reads 160-162. Remove the chicken from the oven and place on a rack or cutting board to rest, making sure to reserve some of the basting butter, which you can drizzle over your chicken once on the plate.

Make the Guaje Salsa Blanch all ingredients minus avocado in boiling water for 4 minutes then shock in an ice bath. Once it's all cold, purée until smooth in a blender adding the avocado and 1 cup of ice water towards the end of the cycle but continuing until smooth.

Plate the chicken Spoon the guaje salsa on to the plate dragging it around to create an abstract design. Slice the rested chicken into 6-7 slices and fan on the plate. In a bowl toss the baby arugula with radishes, corn, pea shoots, lime, and olive oil. Proceed by tossing your salad and placing it on the plate nicely mounded near the chicken.