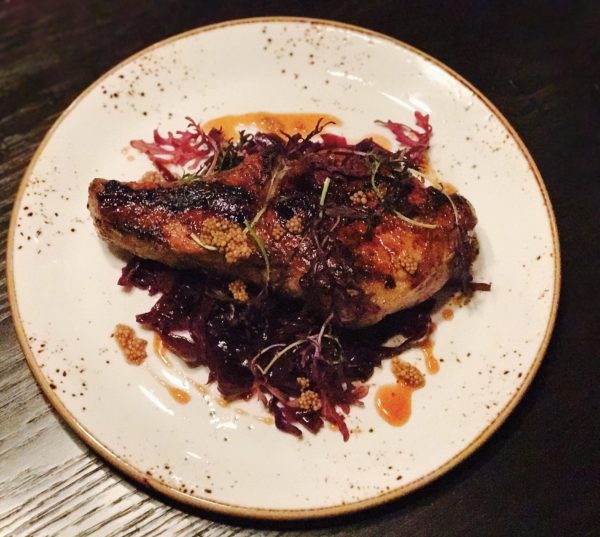 Pork chops with braised cabbage is one of those hard-to-resist combinations, especially when drizzled with this sweet-savory mustard, a welcome creation from Chef Justin Nuebeck of Bedford & Co. located in Midtown's Renwick Hotel.
This is a hearty dish, best enjoyed in cold winter months or just before Spring creeps in.
Origin:
Pork chops and cabbage are a traditional Old World European combination with roots in Ireland, England, Germany, and elsewhere in Europe. But this version has been updated with honey, wine, orange juice, mustard, and cinnamon—it certainly isn't Old World in flavor.

What you need at a glance:
4 thick-cut, 12 oz. pork chops. I recommend getting them at a butcher shop. In NYC I love Staubitz. But Whole Foods and other markets will have thick cut pork chops as well.
Red cabbage
Fresh orange juice
Red Wine
Cinnamon sticks
Honey
Whole grain mustard
Dijon mustard


Heat a large size sauté pan over high heat on the stove. Once hot add grapeseed oil then add onions. Sauté until the onions are soft and translucent. Add cabbage, cinnamon, star anise, and season with salt and pepper. Cook for 5 min. Then deglaze with red wine and cook out alcohol about 2 min. Add orange juice and more salt and pepper, then sugar. Cook over medium heat until liquid has almost completely evaporated and cabbage is tender. Keep in a warm place on the stove until ready to serve.

In a medium size mixing bowl add mustard, honey, vinegar, sugar, whole grain mustard and mix with a whisk. Once evenly combine in a steady stream, whisk in grapeseed oil until oil is emulsified.

Thirty minutes before you're going to cook the pork chops, heat your grill to high heat and remove the pork chops from the refrigerator to bring them to room temperature. Once the grill is nice and hot, season the pork chop with salt, pepper, and extra virgin olive oil. Place the pork chop on the grill and cook until golden brown, about 3minutes. Flip to the other side and repeat. Once the pork chop is golden brown on both sides keep flipping from side to side so it does not burn while it's cooking to temperature—145F is an ideal medium. When the pork chop is ready remove pork chop from the grill to plate top with braised cabbage and drizzle the mustard condiment over the pork and cabbage as desired.