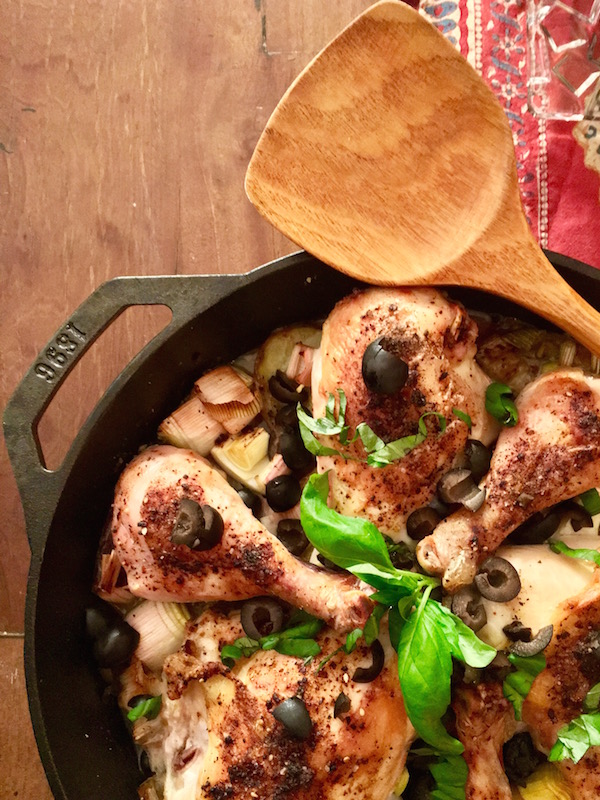 One Pot Chicken with Potatoes & Leeks
One pot meals are my latest obsession and this one pot chicken with potatoes and leeks was a success. One, because I love how all the flavors meld together during the cooking process and two, because one pan makes cleanup a lot easier. You'll want to have an oven safe pan, like a cast iron skillet from Lodge or one from Le Creuset.
I've added Italian spices, olives, and basil, but since this is such a blank canvas, you can substitute these additions for whatever you like. Other ideas are below.
Try these flavor combinations:
Add a combination of ground ginger and garlic to the chicken, then top it with chopped Thai basil.
Combine lemon zest, Parmesan, and bread crumbs and add it to the chicken, then top it with fresh parsley and pine nuts.
Blend miso paste, crushed pistachios, a dash of rice vinegar and mustard in a mortar and pestle, then add to the chicken and top it with sesame seeds when it comes out of the oven.
If you want more flavor ideas for one pot chicken with potatoes, send me an email: tracey@newyorkcity.kitchen
Wine Pairings
Serve the chicken with this Pinot Noir or this Sauvignon Blanc.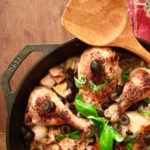 Preheat oven to 400 degrees Fahrenheit. Heat up large cast iron skillet over low heat. Cook the bacon until crisp. Remove bacon and add garlic. Swirl the garlic around for a minute then add in about 1/2 cup of wine. Stir. Then layer sliced potatoes into the pan. Top with sliced leeks. Add the chicken pieces. Pour about 1 cup of wine over the chicken and vegetables. Then season the chicken with generous amounts of salt, pepper and seasoning. Roast for 1 hour or until the skin of the chicken is nice and crisp. Remove from oven and let sit for 10 minutes. Top with herbs and olives, then serve.