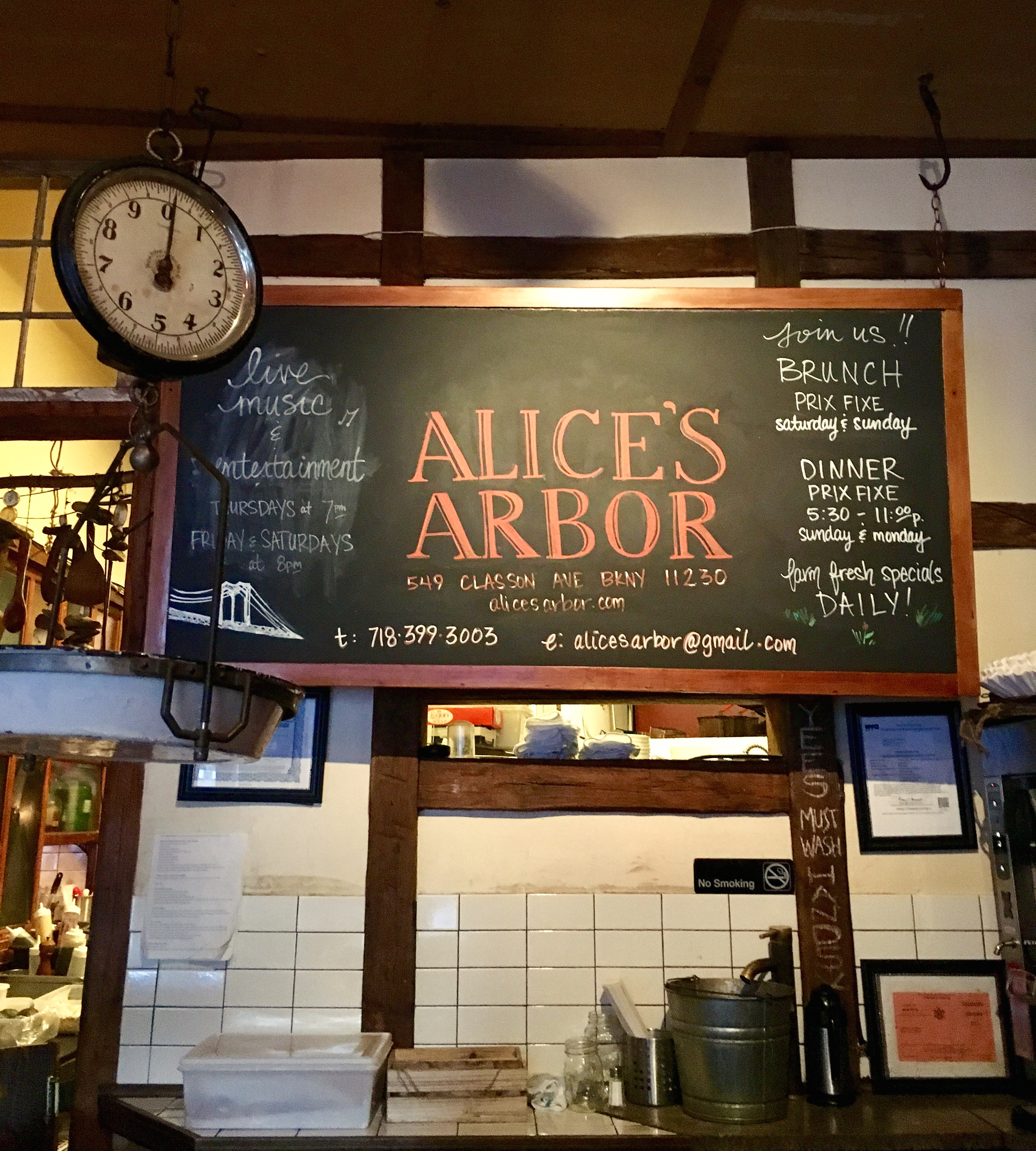 Farm-to-table restaurants have been trendy for a few years now. Which is all fine and good. Who doesn't like seasonal and local food fresh from the farm? Yet farm-to-table isn't always an authentic experience. So when you encounter the real deal, it's worth noting. Which is the case at Alice's Arbor in Brooklyn's Bed-Stuy.
Is it the rustic atmosphere? The driftwood dangling from the ceiling? The farmhouse feel in an urban setting? The re-purposed wood? The simple, satisfying dishes comprised of yes, locally-sourced ingredients? And when I say local, that doesn't just mean a farm upstate. Here, many of the ingredients come from nearby producers.
All of this adds up to an authentic farm-to-table vibe, with food that does indeed say "farm-fresh," including the maitake mushroom appetizer that arrived on a pool of sauce made of ramps, a dish that screams "spring." Other offerings will remind you that you are indeed not in the country, but in Brooklyn like the sophisticated cocktails (the Bed-Stuy Run, which contains gin and fresh ginger syrup was a great choice) and the banhmi croissants, French toast cubano, and vanilla chia pudding.
Other drinks include local beer, kombucha, wines—biodynamic, organic or sustainable whenever possible—and from small producers. While the Brooklyn vibe is alive and well at Alice's Arbor, other dishes will bring you back to the farm feeling: Brussels sprouts with back, mac n' cheese with pulled pork, house-made pickles, pan fried trout with capers and brown butter sauce. These dishes were  executed seamlessly, making the experience a cozy one.
And that cozy experience has translated well. Families, friends, dates, they line up for breakfast, lunch, and, dinner, for what feels like a rustic experience in the middle of Brooklyn. After sharing a classic dessert of apple crisp with ginger ice cream with my daughter, we walked outside to the fray of city life and jumped into an Uber. It's nice to have place that feels we escaped.
Alice's Arbor is located at 549 Classon Avenue, 718-399-3003,  and is open weekdays for breakfast, lunch, dinner, and weekends for brunch and dinner.
Alice's Arbor has shared one of their most popular dishes, which makes its appearance on the menu from to time: BBQ Ribs, which you can serve at your next party or barbecue. Be sure to start this at least a day, preferably two days before you plan on serving it.

Make the sauce Purée onion in food processor. Add ketchup, mustard, and onions and purée until blended. Proceed to add sugar, vinegar, and Worcestershire sauce, and blend well. The sauce should be a light orange. Lastly add black pepper.

Make the ribs Rub the ribs with half of the sauce. Refrigerate the remaining sauce. Place in dish and cover. Let sit for 24-48 hours. When ready to make, prepare a large roasting pan by placing vegetables and beer on the bottom. Preheat oven to 375 degrees Fahrenheit. Unwrap ribs and place on top of vegetables. Season with salt + pepper. Roast for 2 1/2 hours or more if needed. Remove ribs when done and coat with the remaining sauce.