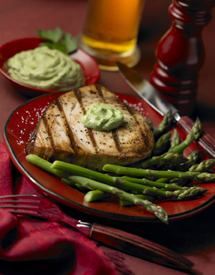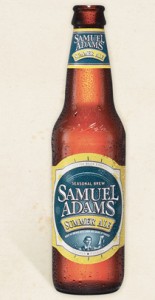 I always tell people that when stocking your kitchen with staples, it's imperative to have alcohol on hand for cooking. And while wine immediately comes to mind as a liquid to add to stews and sauces, beer is also a must-have addition to many recipes. Cooking with beer imparts unique flavors to beef dishes especially, but take the case of these swordfish steaks prepared with Sam Adams. The Summer Ale contains citrus and tropical elements and also Grains of Paradise, a rare pepper that adds spicy notes to this thirst-quenching beer—flavors that perfectly complement the swordfish steaks.
Gather some friends, heat up the grill and serve these grilled swordfish steaks with your favorite side dishes and of course some bottles of Sam Adams Summer Ale.
Grilled Swordfish Steaks with Avocado Butter
Serves 6
4 tbsp olive oil
Zest of 1 lemon
2 tbsp ground cumin
2 cloves garlic, minced
2 tsp fresh ground pepper
½ cup Samuel Adams Summer Ale
Six 8-10oz. swordfish steaks
Make the dish
Combine olive oil, zest, cumin, garlic, pepper and Samuel Adams Summer Ale. Generously coat swordfish and let marinate for at least one hour. Preheat grill to medium heat. Remove excess marinade from swordfish. Place swordfish on grill and cook 3/5 minutes on each side until fish becomes opaque, but not dry. Dollop fish with 2 tablespoons (or more) of avocado butter (recipe below), and let it melt onto and into the fish. Serve immediately.
Avocado Butter
2 ripe avocados, skinned and pitted
2 tbsp salted butter
2 tsp ground cumin
2 tsp ground coriander
2 tsp freshly ground pepper
Springs of fresh coriander for garnish (optional)
Make the butter
In a blender, puree avocados and butter. Add cumin, coriander, salt and pepper.