Welcome to Part 2 of Food. Travel. Memory. When I travel it's the food memories that stick out: sipping chocolat chaud while listening to church bells near the Louvre in Paris, eating fish tacos on the beach in Belize, eating porchetta roadside in Umbria, sipping Champagne with dinner and watching fireworks in Cannes, eating Peruvian food with new friends on the Amazon River…the list goes on.
So I've asked others their favorite food/travel memories. To read Part 1 click here.
Enjoy these unique (and tasty) memories—and be sure to share yours in the comments below or over on The Busy Hedonist Facebook Page.—Tracey Ceurvels
My favorite food memory is enjoying fresh donuts and coffee at the Shangri-La Hotel in New Dehli, India. I would have one every night after dinner as part of my "down time" from work.
Brenda R. Coleman of BrendaRColeman.com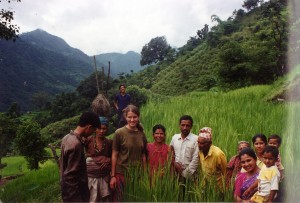 I was 19 when I left the U.S. for the first time. I was a girl from a small city in Wisconsin heading to Nepal for an entire year of study abroad. A few weeks into the year, we were sent, in small groups, to villages in the countryside of Nepal. My group ended up in a village in the middle hills of Nepal named Duradanda. Beautiful mountainous terrain covered in rice terraces, with rushing rivers flowing down from the Himalayan peaks that were visible from various points on our path. 

We were housed with families in the villages, and every family grew nearly all the food that they ate, and kept buffalo and chickens for their milk and eggs. Growing up in the Midwest, I had been raised on a diet that heavily featured casseroles with Velveeta and Campbell's cream of mushroom soup. My arrival in this village represents for me, the awakening of my food life.
Twice a day, I would be called into the kitchen to be served a delicious plate of dal bhat, which is called the Nepali national dish. It was medium grain rice, with dal, and some green vegetables. While the village dal bhat  was not as complex and full of spices as the Kathmandu version, the ingredients sang out to me in their freshness and  the care with which they were grown by this family, in the land around the house.  It was if I had never tasted food before.
As I ate the first serving, and received another helping of rice, I would wait eagerly for the next question, which was "daughter, shall I put some milk and ghee on your plate?".  If you have ever tried ghee in a jar, I can tell you that this village ghee bears no resemblance to it. Nor did the buffalo milk remind me of anything I had previously been told was milk. The luscious taste of the rice mixed with ghee made me want to have every little drop of it. As with life on any farm, there is generally little pretense or fancy manners, so I straight out asked if it was ok to lick my plate. Yep, in a Nepali farming village, you can lick your plate.
If you ever find yourself in a Nepali farming village, especially one off the tourist path, you can try this food. When you meet a friendly person, just ask them if you can have some dal bhat at their house. Making the gesture of putting your right hand to your mouth with the fingers closed will get the point across if they don't speak English well. It is customary to eat the meal, and at the end, to offer some payment in a polite way with both hands. And if you see a tall American woman licking her plate, make sure you say hello.
 
Natasha Wozniak
Boldly Romantic Jewelry made in Brooklyn
www.natashajewelry.com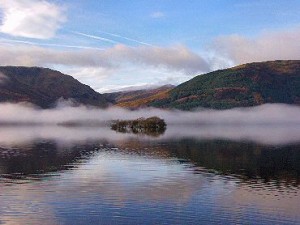 Scotland: in a house we rented on the shore of Loch Lomond in December 2006. National Disaster level flooding hit the area – the Loch was easily a meter above its banks. The Big Guy and I had just walked back from the local co-op with grocery sacks filled with pasta, veggies, and 2-ltr bottles of Strongbow. We sat at the little dining table watching the rain come down in sheets over the loch while making pasta and drinking cider… The sound of the pounding rain, laughter at our situation of being "stuck" in Scotland during horrific floods. I can't wait to go back and do it all over again (maybe a little less wet, though)
Erin Barwis Balloch
Interested in travel writing? Join me for Fly Away Travel Writing Class. Doors open May 7th.
Bon Voyage!