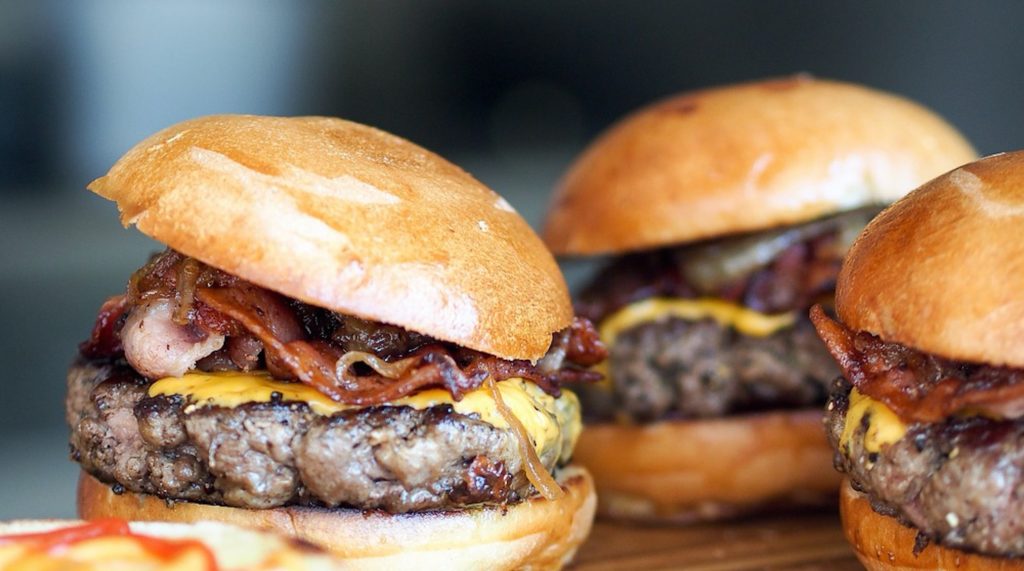 #ad
There's nothing like a juicy burger on a summer day, especially at a barbecue or beach party with family and friends. That first bite is always so enticing…the soft bun, the taste of the burger, the sauce, and cheese. Oh la la!
When it comes to burgers, what are your favorite flavor combinations?
I love making a Smokey Burger: a medium-rare burger topped with smoked gouda, bourbon-maple BBQ sauce (recipe below), hickory smoked salt, along with some caramelized onions and perhaps a slice of crispy bacon. This combination is one of my all-time favorites.
But I like to mix it up and turn to my homemade sauces and spreads for other flavor combinations.
Here are 5 enticing burger combinations to try:
The Smokey Burger—Smoked gouda, caramelized onions, bourbon-maple BBQ sauce, slice of bacon
The Greek Burger—Tomato, feta cheese, and tzatziki (recipe below)
The Piquant Burger—Roasted red pepper spread (recipe below), arugula, and mozzarella
The Spicy Korean Burger—Kimchi with Srichacha mayonnaise
The Italian Burger—Fresh mozzarella, pizza sauce, fresh basil
And when it comes to the bun, classic is the way to go, like the Pepperidge Farm® Bakery Classics Hamburger. Pepperidge Farm® uses premium ingredients (there's no high fructose corn syrup) and they're made with an old-fashioned baker's recipe.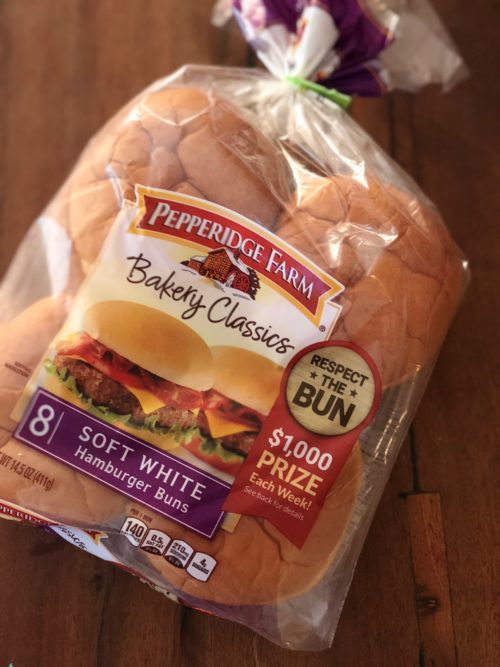 Think of the next burger you want to make. What will you add onto it? Get creative and perhaps you can win a prize by entering the Respect the Bun® promotion: "Respect the Bun with Pepperidge Farm® – Every Burger Deserves a Bun Baked with Pride.".
Visit RespectTheBun.com to find more grilling inspiration and learn how you can enter to win $ for sharing how you Respect the Bun®!
What burger will you make to Respect the Bun®?
≠≠≠≠≠≠≠≠≠≠≠≠≠≠≠≠≠≠≠≠≠≠≠≠≠≠≠≠≠≠≠≠≠≠≠≠≠≠
10 Steps to Making a Juicy Burger
To make 4 burgers use about 1 1/2 lbs of chopped meat, room temperature
Divine equally into 4 patties, about 1-inch or slightly less in thickness
Use a cast iron pan (or a grill)
Press a hole into the middle of the burger so that it doesn't puff up
Heat up the pan over high heat and season with oil
Once you place the patty into the pan, don't move it and don't press on it!
Turn over only once.
For medium-rare, cook on each side for 3-4 minutes. Adjust according to how you like it.
Grill buns like the ones from Pepperidge Farm® for added flavor.

Top with your favorite toppings (some ideas below)! And most of all, enjoy.
Serve one—or more!—of these enticing burger toppings at your next BBQ or party:
Bourbon-Maple BBQ Sauce
Ingredients
2 tablespoons unsalted butter
1 white or yellow onion, chopped
1/2 cup maple syrup
1/2 cup apple cider vinegar
1/3 cup packed dark brown sugar
3/4 cup ketchup
3/4 cup apple juice
1/4 cup bourbon
1/4 cup dates, chopped
2 tablespoons Worcestershire sauce
1/4 teaspoon mustard powder
1/4 teaspoon cayenne pepper
1/2 teaspoon smoked salt (or regular is okay)
1/2 teaspoon freshly ground black pepper
Over medium hear, melt the butter in a saucepan. Add the onions and and stir until they're light brown. Remove the pan from heat and add the remaining ingredients. Stir for a few minutes until it's all combined. Return the pan to high heat and when it boils, lower flame and simmer for about 20 minutes or more until you achieve a thick sauce. Let cool, the purée either in a blender or with an immersion blender. This will keep, refrigerated, for 2-3 weeks.
Roasted Red Pepper Spread
Ingredients
1 12 oz. jar of roasted red peppers (or roast 2 peppers in the oven)
3 cloves of garlic
1 cup of Panko bread crumbs or some stale bread, chopped
1 lemon, juiced
1/4 cup of parsley
1/2 teaspoon of cayenne pepper
1/2 teaspoon of dried Ancho chili pepper, crumbled
1/2 teaspoon of coarse salt
1/2 teaspoon of freshly-ground pepper
1/3 cup of extra virgin olive oil
Add all ingredients to a food processor or blender. combine until just combined so the spread is slightly coarse, not smooth. This makes about 2 cups, which works for 4-6 people, with hopefully some leftovers for the next day.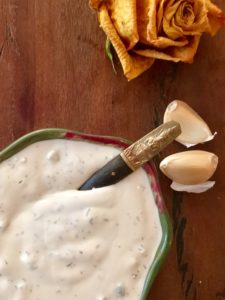 Tzatziki
Ingredients
2 cups of plain yogurt
1 cucumber, peeled and chopped
2 tablespoons of fresh dill, plus more for adding on top as a garnish
3 cloves of garlic
juice of one lemon
Salt & freshly-ground pepper
Add all ingredients to a blender. Blend until just smooth, but not too smooth.
This post is sponsored by Pepperidge Farm, but the content and opinions expressed here are my own.