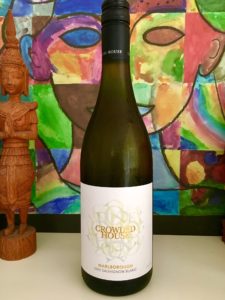 If you're looking for an accessible wine to drink with salads and seafood, try this Crowded House Sauvignon Blanc from Malborough Wines. The grapes were harvested in the summer of 2016 during a warm dry summer in New Zealand.
This Sauvignon Blanc is bright and fresh, light and aromatic, and has notes of white currant with stone fruit.
Try the Crowded House Sauvignon Blanc with mussels with garlic and white wine, this Indian shrimp dish or the beet and feta salad with orange-coriander vinaigrette or whole red snapper with Mandarin oranges and oregano from my cookbook. : )
It's also not expensive, at only about $12 a bottle. So buy a few bottles and have some friends over before the end of summer.
Note: The beautiful painting of the Statue of Liberty in the background was a compilation of paintings done in my daughter's 1st grade class.