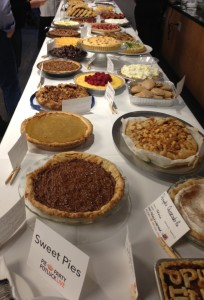 A pie-themed party? Doesn't that sound fun?
Well I had the honor of being invited to the annual—and exclusive—Pie Party Potluck. To enter the party one thing was necessary: you had to have a pie.
More About Pie Pot Luck:
The hostess—The wondrous Jackie Gordon, aka, The Diva That Ate New York, who made one of the most perfect pies at the event. Her pie even had the word "pie" crafted out of dough and spelled out multiple time over the pie.
The setting—The brand new Institute of Culinary Education (ICE), which, if you ever wanted to take a cooking class or go to culinary school, THIS is the place. There is a classroom, the first of its kind, dedicated to chocolate! Plus lots of other cool classrooms, like the one solely for making stocks and smoking food.
The scene— Two long tables, one covered in savory pies and the other of course covered in sweet pies; a bar serving drinks from Tromba Tequila, Mizu Shochu and Reyka Vodka, a table of cheese from Cabot, a showcase of products and a lot of pie-loving people sharing, eating, and admiring pie, and views of the Hudson River.
Some of the pies I tasted—Heirloom tomato, S'more pie, Spicy chicken hand pies, Wild mushroom empanadas, Beef and Guinness pie, an Apple galette and many other divine pies.
My pie— Chocolate pie infused with Earl Grey and drizzled with chocolate and dusted with fleur de sel. I made the dough with King Arthur Flour and Cabot Creamery, both of which were sponsors of this super fun event.
Other sponsors: WÜSTHOF (LOVE their knives), Analon (nice cookware sets!), Dub Pies (my 7-year old daughter loves this place) and Tovolo (love the silicone pastry brush).
If you like rich and decadent chocolate desserts with a hint of Earl Grey, then try my recipe for Chocolate Pie. Infusing with Earl Grey is optional, but I like the flavor it adds. Also, although I didn't include the recipe for pie crust, you can buy store bought or do what I did: follow a recipe from this primer on making pies. How to Build a Better Pie by Millicent Souris. Out of all the pie-making books I've come across this one explains the process well. For the crust I used King Arthur Flour and Cabot Creamery Butter.
Enjoy!
[gmc_recipe 6086]