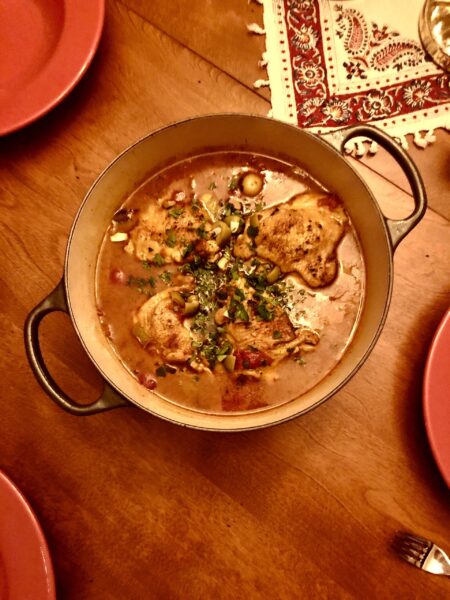 Paprika comes in three main forms—sweet, hot, and smoked—but my absolute favorite is the smoked version, also known as pimenton. Made from peppers that are smoked, dried and then ground, smoked paprika is very different from its sweet and hot counterparts. Pimenton adds earthy, pungent, rich, smokey dimensions to this Spanish-inspired stew. Add in some orange zest and juice for freshness, plus tomatoes, wine, and olives for an all around full-of-flavor stew. Enjoy this meal even more by grilling some ciabatta bread with olive oil so you can dip it into the tangy broth.
Ingredients
2 tablespoons of olive oil
3/4 lb of chorizo (about 3 pieces)
2 lbs of chicken thighs on the bone (you could also use drumsticks)
salt and pepper
2 tablespoons of oregano, separate
1 medium onion, sliced
4-5 cloves of garlic, sliced
2 teaspoons of smoked paprika
1 teaspoon cumin
2 cups of white wine
the juice and zest of one orange
4 cups of chicken broth
1 28 oz can of crushed tomatoes
1 can of chickpeas
1 1/2 cups of small potatoes (red bliss, fingerling or baby potatoes), sliced in half (I used a blend of small red and purple potatoes)
1/4 cup of parsley, chopped
1/4 cup of pitted green olives, chopped
Make the Stew
In a large pot, heat olive oil over medium heat and sear the chorizo, moving them around with a fork to brown on all sides. Cook for about 6 minutes then remove. Season the chicken with salt, pepper, and 1 tablespoon of oregano. Sear, skin side down first, for about 5 minutes. Switch to the other side and sear for 3-4 more minutes. Remove the chicken from the pan. With a large spoon remove all but about 1-2 tablespoons of oil. Add onion and sauté for a few minutes, stirring, until the onion is translucent. Add the garlic and sauté for another minute. Add the spices and stir. Add wine and stir. Add the broth, tomatoes, chickpeas, stir until combined. Place the chicken and chorizo back in the pan. Cover and lower heat. Let simmer for 45 minutes. Once you're ready to serve, sprinkle with parsley and olives.
Need a new kitchen product? Check out my recommendations on my Amazon Influencer page.