When I posted a photo of this cake on Instagram, friends left comments that they hadn't had a slice of bundt cake in ages, that no one seems to make them anymore. Certainly this humble cake is an old-fashioned choice, yet it's still a crowd pleaser. Case in point: my family came to visit and as soon as they arrived they gobbled it all up.
The humble bundt cake doesn't have a formal recipe. Its name is derived from the type of pan in which it's cooked: a ring-shaped mold. Which makes it a wonderful canvas for any flavor of cake that you desire. Since I'm partial to vanilla and cardamom those are the flavors I used in this version, which has a balanced texture and only subtle hints of cardamom. I served the cake to my daughter and her cousins so I didn't want the cardamom to be overwhelming for their young palates.
You can use this recipe as a base and then add in other flavors you like: cinnamon, ginger, maple syrup…you get the idea.
And you can purchase this particular pan, which looks like a castle or even a crown, at my favorite baking shop: NY Cake. But I'm sure other retailers like Amazon sell different types of bundt pans, so you can have fun making different molds.
Buttermilk Bundt Cake with Cardamom

Print recipe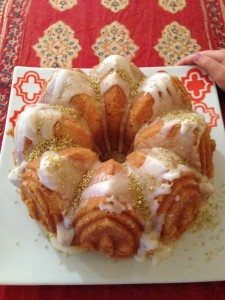 Ingredients
2 sticks of unsalted butter (16 oz.) (softened)
2 cups plus 3 tablespoon of granulated sugar
2 teaspoons of vanilla (I use Nielsen-Massey Madagascar Pure Vanilla)
3 eggs
2 cups of flour (all-purpose)
1 teaspoon of baking soda
1 teaspoon of baking powder
3/4 teaspoon of salt
2 teaspoons of cardamom, for a subtle hint of flavor (add more if you like)
1 cup of buttermilk
powdered sugar (for dusting on cake)
Directions
Preheat oven to 350 degrees Fahrenheit. Butter and flour a Bundt pan. Cream together the sugar and butter on medium speed. I use a KitchenAid mixer with wire attachment and cream for about 4-5 minutes. Add in the vanilla, then add in one egg at a time. In a separate bowl, combine flour, baking powder, baking soda, salt, and cardamom (or other spice you like) with a fork. Add the dry mixture, a little bit at a time, alternating with the buttermilk. Add batter to the Bundt pan and bake for 48 minutes or slightly more. Cool for at least 10 minutes (I waited 20 to be safe), then place pan over a plate to remove the cake. Let cool for 10 more minutes if you plan on frosting it. You can make an icing (see below) or sprinkle with powdered sugar.

For a quick icing, mix together 1 tablespoon of softened butter with two cups of powdered sugar, 1 teaspoon of cardamom (optional) and 1 tablespoon of buttermilk.