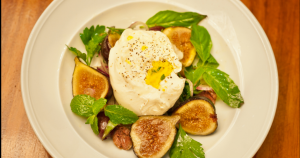 Burrata, fresh figs, a variety fresh herbs…there's hardly a better warm weather salad. I enjoyed this a few weeks ago at Wall & Water, located in the Andaz Hotel on Wall Street. (You can read about the restaurant in my Q&A with Chef Maximo in Hauteliving.com)
I also tasted the grilled stone fruit salad, the seafood pot pie and the young chicken with spring vegetables. But this salad of burrata, figs and herbs was one I wanted to share with you since herbs are abundant at the Greenmarkets and well, burrata and figs are tempting combination. And it makes a perfect lunch or salad to have at dinner.
Thank you to Maximo Lopez for sharing this spring salad recipe.
Burrata cheese with fresh figs, red onions, black olives, mint, basil and parsley
Serves 4 people
Ingredients
2 whole burrata cheeses, 6 ounces each
9 fresh figs
1 cup of fresh mint leaves
1 cup of fresh basil leaves
1 cup of fresh parsley
1 small red onion
3/4 cup of pitted black olives
Extra virgin olive oil
Juice of one lemon
Maldon sea salt
Freshly crushed black pepper
Make the dish
Cut the onion in very thin slices. Cut the olives in halves, lengthwise. Slice the figs in half. Mix together. Add in herbs, olive oil, lemon juice, and salt + pepper, to taste. Mix. Cut the burrata in half and serve on top of the fig salad. Sprinkle some more olive oil and black pepper, to taste.
Note
Burrata is an unusual, yet delicious stringy-creamy mozzarella cheese.
It can be replaced with high-quality buffalo mozzarella.
Wall & Water is located in the Andaz Wall Street Hotel/75 Wall Street/212-590-1234