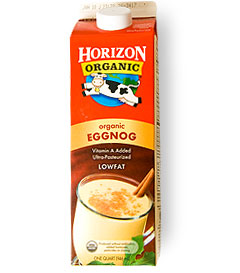 Yesterday my friends and I were wondering why banana bread is called bread when it's actually a cake. Is it because it comes in a loaf? Or is there some other reason? Whatever the case, I love banana bread, and I also love eggnog, so I've combined the two into one "bread" you'll want to have around for the holidays.
Banana eggnog bread
Ingredients
1 cup sugar
1/2 cup butter, softened
2 eggs
2 tsp. brandy
1 tsp. vanilla
2 ripe bananas
1 cup eggnog
1 tablespoon milk
2 1/4 cup flour
2 tsp baking powder
1/2 tsp. nutmeg
Make the banana eggnog bread
Preheat oven to 350 degrees. Butter a 9 x 5 x 3 inch loaf pan. Cream the sugar and butter until fluffy. Add the eggs one at a time, mixing after each addition. Add brandy and vanilla, mixing until smooth. In a separate bowl mash the bananas and add eggnog, then mix in with butter/sugar mixture. In a separate bowl, sift flour, baking powder and nutmeg together then add them to the wet mixture. Stir until combined. Pour into buttered pan. Bake at 350 degrees for 45-50 minutes or until toothpick comes out clean. Let it cool for at least 10 minutes. Remove from pan. Allow bread to cool before slicing. Serve with ice cream or homemade whipped cream.