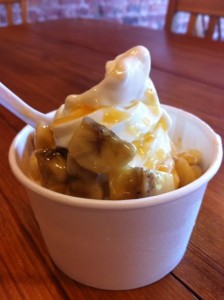 My latest obsession, and I have a frequent buyer card to prove it: frozen yogurt from Culture: An American Yogurt Company. Since it's two blocks away from where I live (and I work at home) you know where you can find me a couple of days a week: taking a short break and enjoying the original yogurt with bananas and caramel.
The yogurt (they normally have 3-4 flavors, which change day-to-day) and their toppings are the best I've seen. And what makes this yogurt place stand out from their counterparts is the store is an actual certified dairy. The yogurt, which contains live cultures, is made on site, and they have lots of organic and high quality toppings: tupelo honey, homemade caramel, coconut shavings, fruit and even combination toppings like "parfait," which includes granola, fruit and raw honey and "key lime pie," which has key lime filling and crushed graham cracker. Call me boring, but the bananas and caramel are a winning combination.
For an end of the summer treat, forego the frozen yogurt chains for this charming and simple shop with topnotch ingredients.
Culture: An American Yogurt Place/331 5th Avenue between 3rd + 4th Streets in Park Slope/718-499-0207