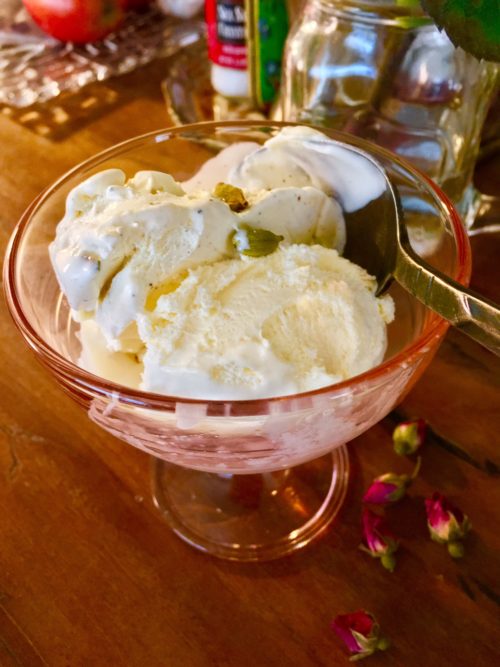 Craving ice cream? It's easy to get bombarded with all the choices at the supermarket these days. You stare into the freezer wondering which one will hit all of your requirements. For me that means super creamy and something off the usual ice cream radar.
Which is why I was excited to taste the kulfi-pistachio cardamom ice cream from Adirondack Creamery.
Have you heard of kulfi? It's a traditional Indian ice cream usually made with cardamom, crushed pistachios and condensed milk, a truly swoon-worthy flavor combination, in my opinion. Plus, the taste and texture of this ice cream was pretty much perfect.
I combined the kulfi-pistachio cardamom ice cream with a couple of spoonfuls of vanilla which, if you're a fan of vanilla as I am, you know how often it can disappoint. But this rendition contained vibrant notes from Madagascar and Tahiti. Taking bites of vanilla and and kulfi together is a wonderful postprandial dessert.
Other dessert ideas:
Serve kulfi ice cream with this cardamom bundt cake.
Pour a shot of espresso over the Vanilla or the High Peak Perk for an Italian affogato
Toss fresh berries over the Black Raspberry
Serve the Banana Chip with homemade brownies or flourless chocolate cake
Or, serve the ice cream on its own, alone or with a dollop of whipped cream
Next time you're perusing the freezer aisle of the supermarket, grab a pint from Adirondack Creamery. It might become your new favorite, too.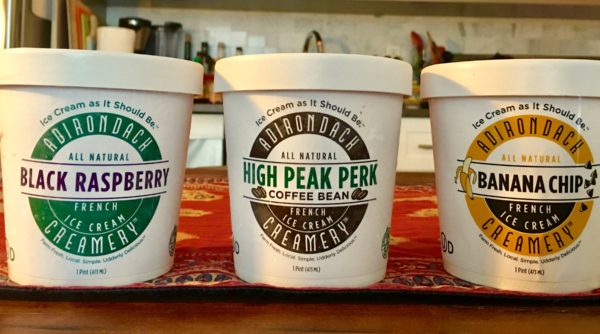 Here are some other Adirondack Creamery flavors to try:
Black Raspberry
High Peak Perk
Earl's Chocolate Peanut Butter
Banana Chip
Whiteface Chip
Barkeater
In the fall and winter, try their seasonal ice creams: Pumpkin Pie and Egg Nog.
Satiate your ice cream craving. Adirondack Creamery ice cream is available in NYC at Whole Foods, Union Market, Dean & Deluca, DiPalo's and elsewhere. For other store locations, visit their store locator.
If you're looking for pretty ice cream bowls, try these Gigogne glass ice cream bowls from from Duralex.