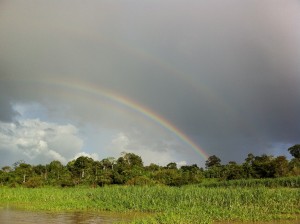 1. You'l taste fruit, such as cocona and camu camu, that you can't find anywhere else in the world, not even in NYC
2. If you embark on Aqua Expeditions, you'll see parts of the Amazon not many people get to see, including what's considered the birthplace of the Amazon.
3. You'll most definitely make new friends
4. You'll see wildlife you've only read about or seen in a zoo, like squirrel monkeys, vultures and caimans.
5. You just may see a double rainbow as I did. How wonderful is that?
Read more about the Peruvian Amazon in my article in The Boston Globe Travel Section.