Today's post is courtesy of guest blogger Kelly Noble. Thank you, Kelly!
If you are a serious home cook, or would like to start cooking more at home you may want to consider some of these items to add to your kitchen. Although they may be more popular in commercial kitchens, these items are a home cook's dream for helping make cooking easier as well as developing fun and interesting creations! Let the aspirations to be a famous chef begin at home with these cool kitchen tools!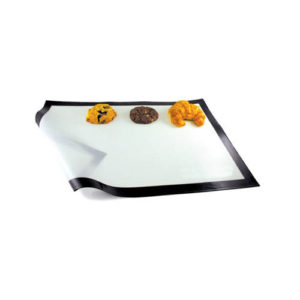 Baking Mats
The worst part about using a cookie sheet or pan is cleaning them them after each batch. With nonstick baking mats, cookies and homemade candies will never again stick to the sheet pan, and the material prevents scorching for a more even bake. Silicone baking mats are the ideal baking surface for a variety of baked goods, although you may also try parchment paper, which is a disposable non-stick alternative to reusable silicone mats. Any home cook that bakes should consider this item for their baking gadget collection.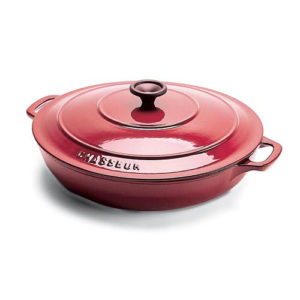 Rondeau Pan
Made from cast iron these rondeau pans are perfect for slow braising and simmering meats and sauces due to their ability to retain and distribute heat evenly. This item is suitable with all types of heat sources, including induction, stovetop, and conventional ovens.This particular rondeau pan is also used for paellas and stews and comes in several different colors including blue, green and red so you can match your pan to your style.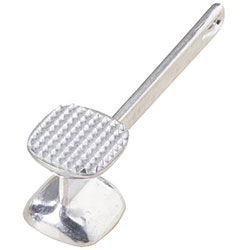 Meat Tenderizers
Tenderness is a key component to tasty meat. When a cut of beef, lamb or chicken does not meet your standards, you can use a meat tenderizers to soften things up a bit. Two of the main factors affecting meat tenderness are age and cut. The key to tenderizing meat is to break down these connective fibers and tissues to make the meat soft. Of course, a meat tenderizer is a great way to do this. I personally use my meat tenderizer all the time when making Italian dishes and rolled meat dishes.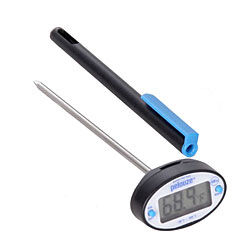 Digital Style Meat Thermometers
Food safety is important, even for a home cook and so you should probably go invest in a meat thermometer. When using a meat thermometer, it is important that you place the needle into the center of the thickest part. The tip of the needle is the only part that actually "reads" the temperature, so the amount of needle inserted is not important. Make sure that the needle does not go all the way through and contact the cooking surface or that it is not touching bone, this will give a false reading. You can also use meat thermometers to check the temperature of soups, stews or other hot food items that are in a warmer.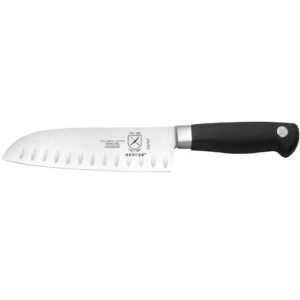 Santoku Knives
A good knife is a necessity in any kitchen and in my kitchen the sontoku is my knife of choice. Santoku knives are the Japanese version of a chef's knife. They are used much like a Western chef's knife, mainly for chopping, dicing, mincing and an assortment of other cutting tasks. They are the all-purpose Japanese knife – they can be used to cut just about anything, as long as it is not used on bone, which can chip the knife's edge. When choosing your santoku knife, first consider the steel shaping method. If you are looking for the highest quality of knife available, go with a forged model. On the other hand, if you only plan on using your knife occasionally or are looking for an economical option, a stamped santoku "bocho" (Japanese for knife) will do just fine. Go with carbon steel for durability, or high carbon stainless steel for a knife that is strong but also highly unlikely to ever rust.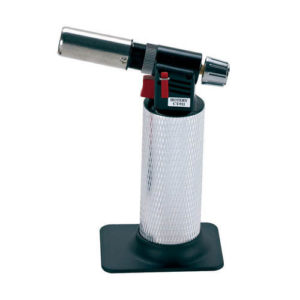 Kitchen Torches
I recently purchased a kitchen torch for my very own and I can honestly say it is one of the coolest gadgets in my kitchen! These useful utensils are, of course, instrumental in making my favorite dessert, crème brulee, but they can also be used to glaze tarts and brown a meringue. You can even use it to melt cheese on top of a dish. The proper way to torch the top of your dessert is to hold the opening of the torch about four to five inches away from the top of the dish and move the flame back and forth in a slow, even motion.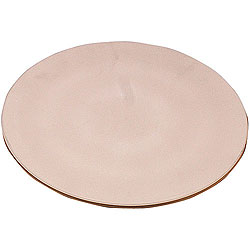 Pizza Stones
A pizza lovers gadget collection would not be complete without a pizza stone to make your pizza taste like it was made in a pizzeria. Traditional pizza baking methods call for a wood-fired oven, but as an alternative, both pizza shops and people who want to make homemade pizza can make authentic quality pies using a pizza stone. Pizza stones are made from terracotta, which is unglazed ceramic made from natural clay. The term terracotta literally means baked earth and usually has a reddish brown color. The clay was widely used by ancient societies to make decorative artwork and statues, some of which have survived to this day. Pizza stones made from the same clay are durable, retain heat well and will eventually absorb some of the pizza flavoring, giving each pie a taste unique to your kitchen.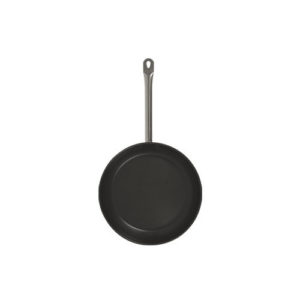 Non-Stick Fry Pan
Frying pans are an essential part of any commercial kitchen but the home cook should also think seriously about investing in a good non-stick pan. They can be used for sautéing vegetables, searing a steak or even browning ground beef. With its waxy, slick feel, the non-stick finish prevents a lot of food from sticking to the pan. Non-stick pans are great for using with healthful dishes that required very little butter or oil. They are also good for use with recipes with require the dish to be flipped or moved around in one whole piece with a spatula. Every cook should have at least one go to fry pan they can count on, if not more…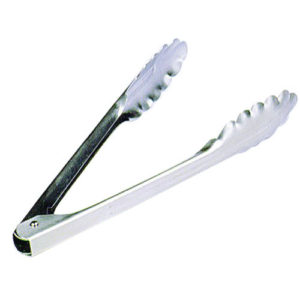 Tongs
Spring-loaded tongs are a two-piece tong that is joined at the end with a spring so that the tongs will spring open when the user's hand is relaxed. They vary in length and can be used on a number of tasks, such as flipping meat that is being grilled or grabbing hot produce out of boiling water. The spring action gives the user more control over the amount of force exerted on the food so it can be grabbed securely or lightly. I personally own three tongs that I use on a regular basis when I cook. I am especially happy to have my tongs when I am cooking bacon! I suggest you get a couple at verying lengths to help with a variety of jobs in your kitchen.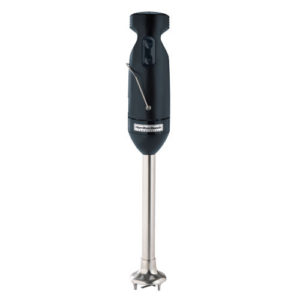 Immersion Blenders
Immersion blenders are a great way to make soups and salsas in the container of your choosing. These blenders are unique from processors or free standing blenders in that the food that is being blended does not need to be put in a special container. The wand blender, as it is sometimes called, is immersed into whatever container the food has been prepared in. Some models can even be used while the food is simmering on the stove. Immersion blenders are known and loved by professional and novice cooks alike because they can go where regular food processors cannot. They let cooks think outside the blender bowl when it comes to blending dishes.
Which one of the above kitchen tools do you own? What is your favorite professional style kitchen gadget? Let us know in the comments below.
Our guest blogger, Kelly Noble, is the Social Media Geek for Foodservicewarehouse.com, a foodservice equipment and supply provider that also specializes in industry education. She has been an avid wine drinker and home cook for over 8 years and writes the Wine & Dine blog, which focuses on her recipes, food trends and favorite wines. Learn more about Kelly by visiting her blog.