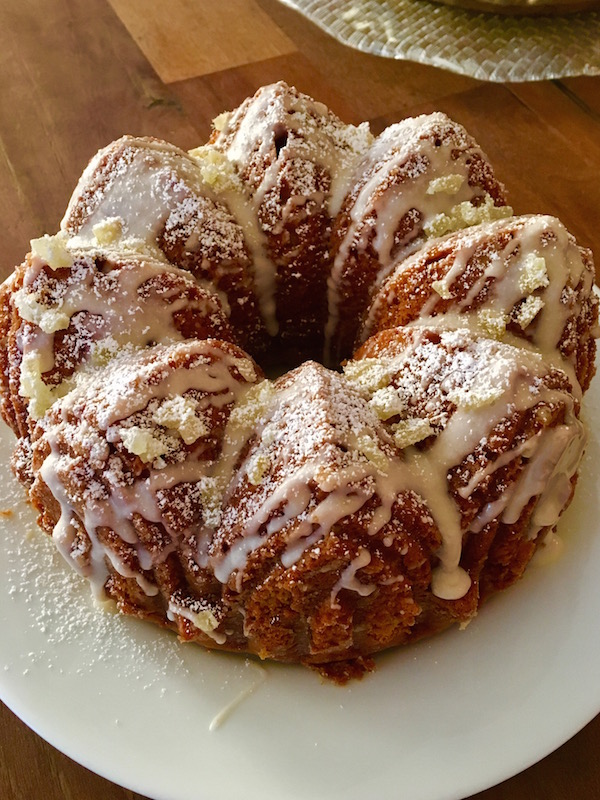 It's finally fall weather here in NYC so I made this pumpkin ginger bundt cake to take to a friend's birthday party.
Did you know that bundt cakes are named as such because of the pan…not because of the type of cake? So you can make any cake and as long as it's in a bundt pan, then it's considered a bundt.
I left the party on the early side because I had my daughter with me, but apparently the cake was enjoyed—and welcomed—as a late night snack. Nothing makes me happier to know it was enjoyed at 1am when the festivities were waning. The hostess also mentioned she had a slice for breakfast. So apparently this pumpkin ginger bundt can be enjoyed any time of day.
But seriously…who can say no to a bundt with fall flavors? How can you go wrong with pumpkin and ginger, plus a dash of maple and cardamom? Yes, I know I use cardamom a lot in my desserts, but I love its unique nuances. I also added in crystallized ginger but you can toss in some fresh ginger if you like.
For the icing I suggested you make a classic milk/powdered sugar mix, but feel free to add in a spice or two. Or, drizzle the pumpkin ginger bundt cake with caramel or chocolate syrup—or whatever your sweet tooth can dream up.
Preheat oven to 350 degrees Fahrenheit.

Butter and flour a bundt pan. You can use a spray but I prefer the classic butter/flour.

In a large mixing bowl, combine oil, sugar, eggs, vanilla, maple, pumpkin and sour cream (or creme fraiche). In a separate bowl, combine all the dry ingredients and mix with a fork until blended. Add the dry mix to the wet mix and stir to combine. Add in 2 tablespoons of crystallized ginger and stir. Pour into the bundt pan. Bake for approximately 50-55 minutes or until a knife or long stick (I use a skewer) comes out clean. Remove from oven and let sit for at least 15 minutes to cool. Invert pan and remove cake.

If you want to ice the cake, let it cool, then drizzle with icing: Mix 1 cup of powdered sugar with 1 tablespoon of milk and a dash of cinnamon or cardamom. Adjust as you see fit. Top with 1 tablespoon of chopped crystallized ginger, if you wish.