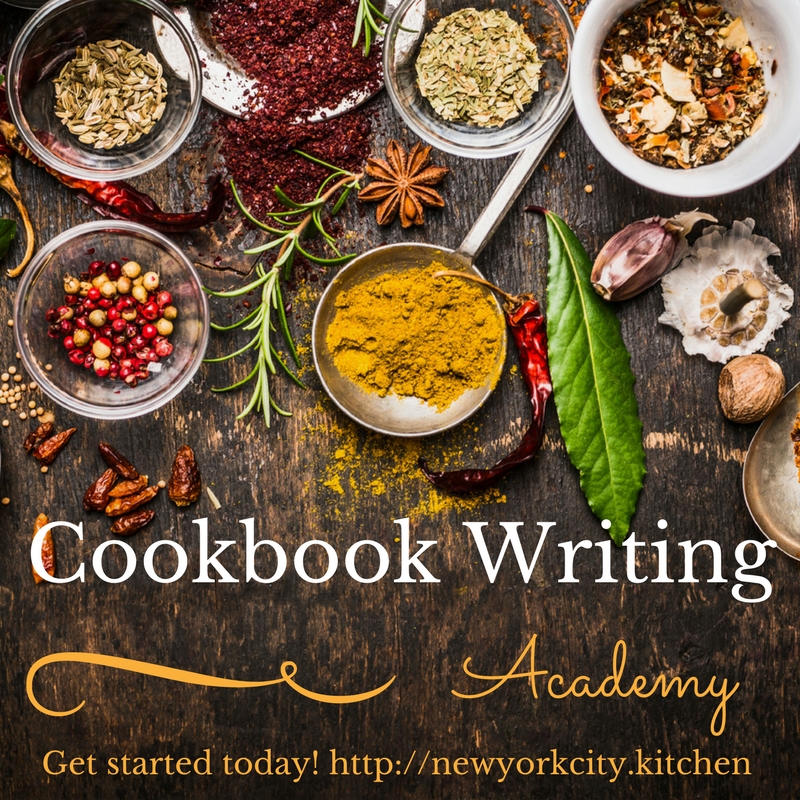 Class starts October 23rd!
Have you always wanted to write a cookbook?
Do you have recipes typed up in Word docs, written down in notebooks, swirling around in your mind?
Have you wondered how to piece it all together into a book?
Join The Cookbook Writing Academy so you can create your cookbook proposal and be on the road to publication.
In this 5-week program, I'll help you put your cookbook idea into a proposal form for you to pitch to cookbook agents and/or publishers. Or, if you'd rather self-publish, you'll have the bulk of your book ready for publication.
Course Modules Include:
1. Your Ideas—Narrowing them down into a solid concept
In this module you will learn how to take your ideas and turn them into a concrete concept for a cookbook. Once you have the concept, you begin on the proposal, an important document that will help you get published.
2. The Proposal, Part I
In this module, you will learn:
the importance of a proposal
Writing a compelling introduction that will attract agents and publishers
Organization: separating your recipes into chapters
The different sections of a full-fledged proposal
Should you include a sample chapter?
3. The Proposal, Part II
In this module, you will learn:
What to put in your bio to attract agents
How adding in competitive analyses will help differentiate your book
Marketing ideas to help you stand out
4. Your Platform
In this module, you will learn:
What to put on your web site to attract readers
Sprucing up your social media
Which social media is best for you
5. Landing an Agent or Self Publishing?
In this module, you will learn:
Deciding between the traditional route or the self-publishing route
The different steps to take for each
How I landed an agent
Next steps
Throughout the course, I will share aspects of my proposal that landed me an agent and a book deal, what it's like to work with an agent, and how letting go helped me sell the book.
In the Cookbook Writing Academy, you will receive special attention via a private Facebook group (or email if you don't use Facebook): you will be able to share your ideas for your cookbook, ask questions, share your progress and brainstorm your ideas with me. I will help you create your concept and will take a look at your intro, bio, and other parts of your proposal.
This is a brand new class, available for a limited time, so I've kept the price low.
Your investment: $299 for the course, which includes a private Facebook group where you can ask me anything.
Optional: Get even more personalized help. Add in Two Private 45-minute phone or Skype conversations for an additional $100, where the focus is solely on you and your book. We can schedule these at the beginning and at the end, so I can further help you with your concept, questions you have and next steps.
The course is delivered once a week via email starting October 23rd and includes the private Facebook group where we will share ideas. You'll be able to tag me and ask me questions about your concept, help with editing your document, and more.
Why take the class with me?
Ever since I was a kid, I've loved cookbooks, so much so that I not only read them, but I collected them, too. Later, I decided I wanted to write my own cookbook—a dream that came true with The NYC Kitchen Cookbook, which was published in August 2017. I will share my journey with you so that you can do the same! My process will help you make the endeavor of creating a cookbook as easy as possible for you.
I'd love to help you with your dream of publishing a cookbook. Let's get started! Sign up today.
The first 25 students will receive a free 30 minute call with me to discuss your cookbook concept!